Posted by Tyche on 15th Jul 2019
We're going to WWDMAGIC!
Thank you for your continuous interest in our brand. We're excited to see you all this year at our NEW LOCATION. Find us August 12th-14th at the Las Vegas Convention Center SOUTH HALL LEVEL 1! Our new Booth #: 77530.
We are located by on:line / Fashion Go, and the adorable Lounge that MAGIC will be hosting. Stop by, say hello, and enter our 3-Day MAGIC Contest! Details listed below.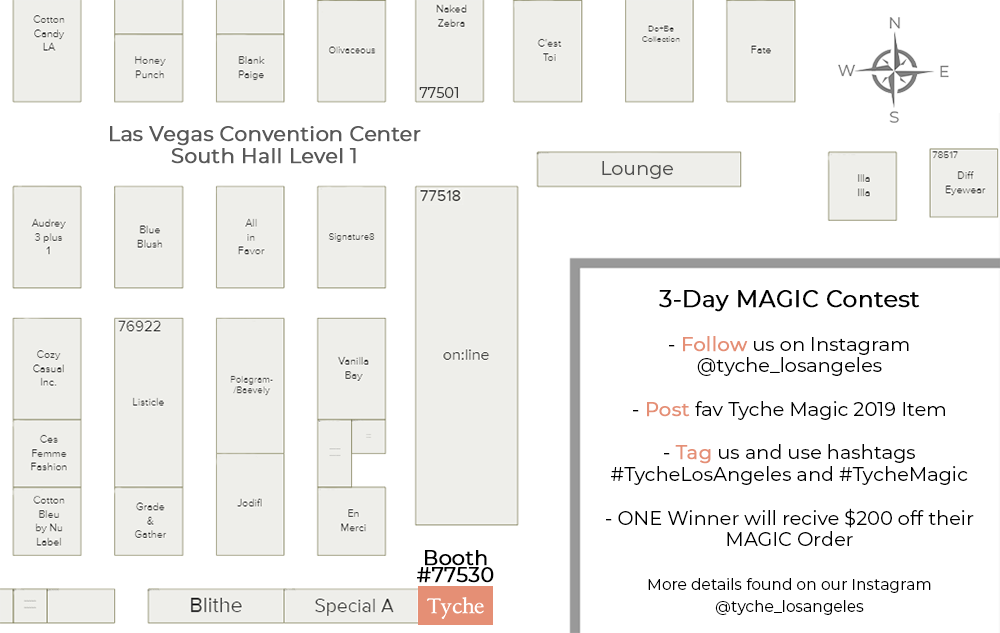 At the August 2019 show, we will be showcasing our best-selling immediate, and a first look at our unreleased Fall Collection! At the show you will see neutrals, deeper tones, muted tones, and new prints (per usual), all in bold Tyche fashion. We'll be sporting Maxi Dresses, Rompers, Tops, Bottoms, new sleeve variations, fresh body designs and incredible attention to on-trend details.
We accept walk-ins and appointments.
If you would like to contact our MAGIC team, please email info@tychedonca.com.
Can't wait to see you there!