Posted by Tyche on 21st Mar 2019
It's already mid March, which means Spring Break season is upon us! Where are you planning on going this year? Better yet, what are you going to wear?! Although Spring Breakers travel to all sorts of places during this time, we've narrowed down our top three favorite things to do this vacation; a chic Vegas Trip, a Festival Weekend, and a Mexico Resort Getaway. If your local Boutique doesn't carry our brand, make sure to hit them up and name drop Tyche! If you see something you like and are not a retailer, email us and we'll help you find what you are looking for.

Before you Viva Las Vegas, make sure you have aaaaalll of your Tyche Essentials. We'll start things off with a casual-chic look that everyone can rock. Our Abstract Mosaic Print Strapless Top is the perfect little piece that packs a punch. The strapless neckline shows off the shoulders, and the length hits the waistline perfectly so that the top can be worn with low-waistline bottoms. Tuck it in, tie it in a knot or leave it flowing in the breeze - either way, this versatile piece will make onlookers jealous.
Style our Abstract Mosaic Strapless Top with our Cascade Ruffle Shorts and a chic wristlet. For a semi-formal look, throw on some chunky heels and our Texture Coated Shorts. Going somewhere fancy? Slide into some black leather pants and your stilettos
Vegas or not, everyone needs a staple black going-out piece. Our fav going-out romper, our Surplice Halter Romper, is not only chic, but comfortable too! The halter neckline ties behind the neck to your liking, and drops down into a deep v-shape. This romper has pockets so that you can stash your phone, lipstick and gum away for safekeeping.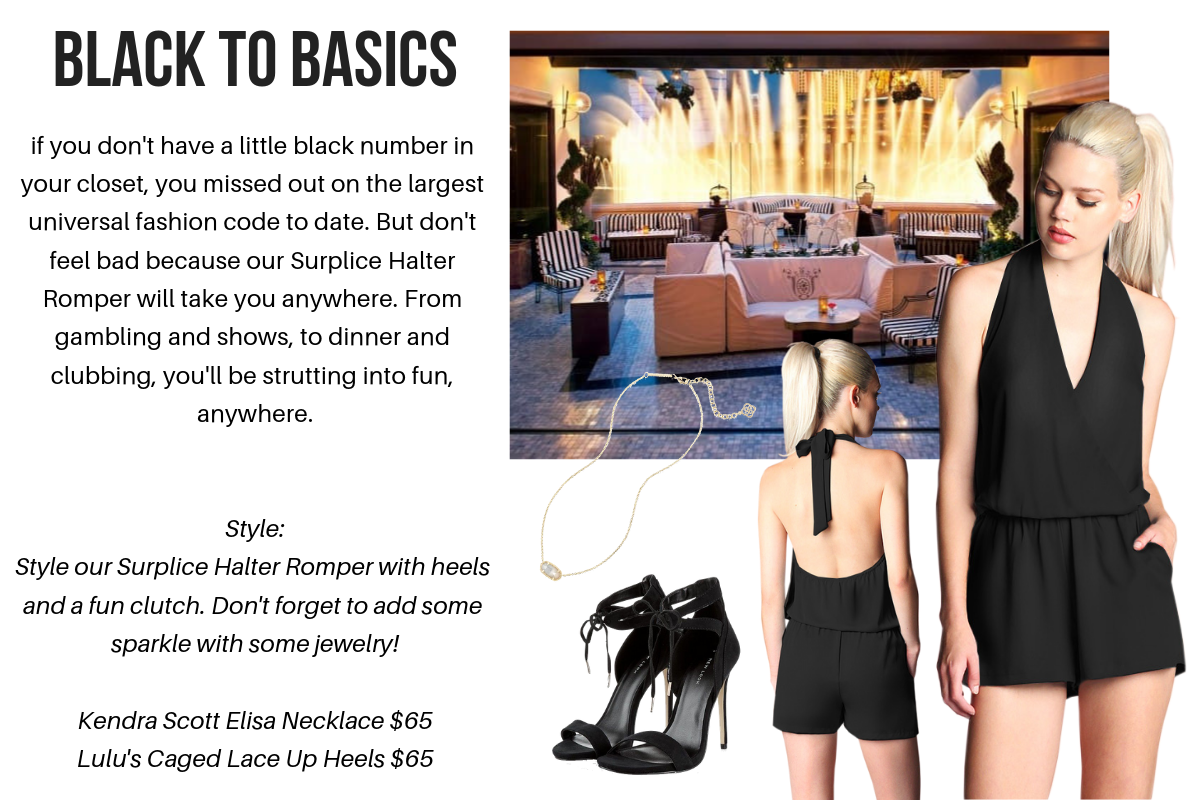 Style our Surplice Halter Romper with heels, jewelry and a clutch. This piece comes in multiple colors so if you're not diggin' the black look, opt out for some brighter tones.
____________________________________________________
Add a little sparkle to your Vegas lineup with our Metallic Knit Off Shoulder Bodycon Dress. The beautiful fabric of this piece is stretchy, but fits snug to the body, giving you a bandage feel. Although it feels like a knit to the touch, it is still breathable and won't get you sweaty in the club!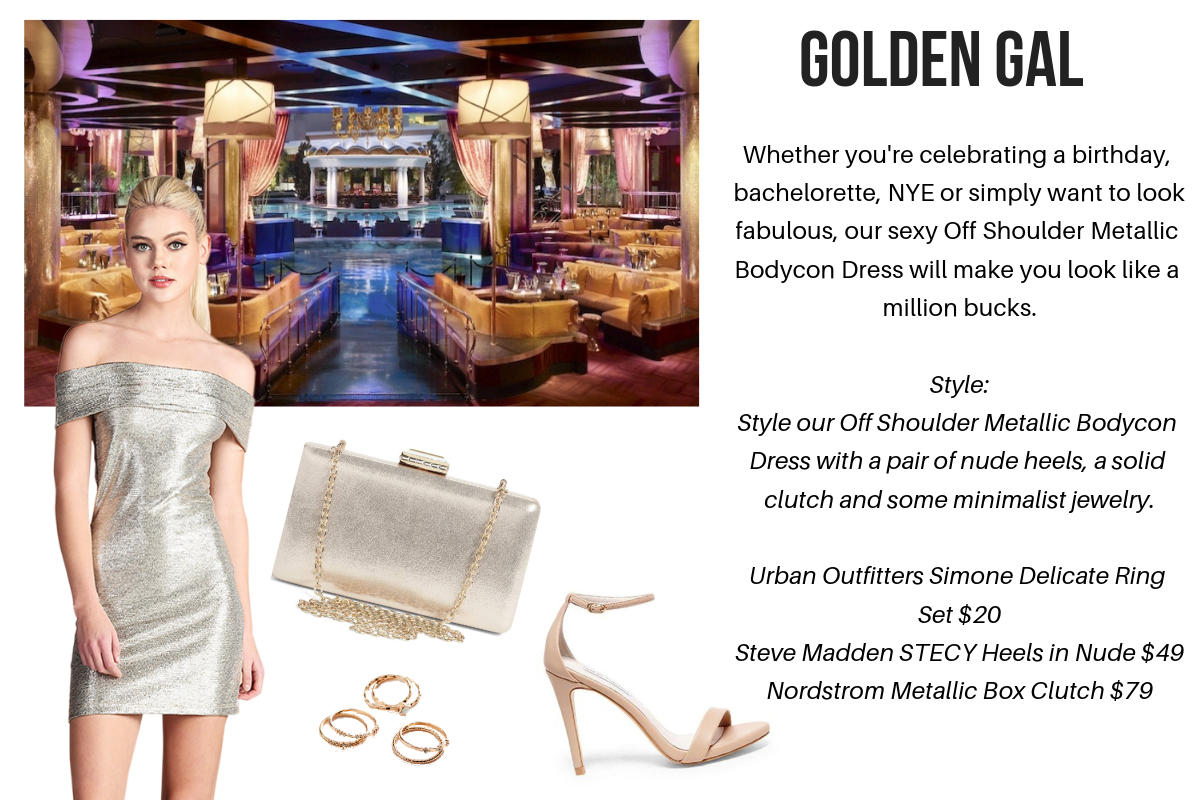 Style this piece with neutral tones to achieve an effortless, chic look. We wear this dress with nude heels, and similar-toned jewelry to keep the attention on Y O U! Although Off-Shoulder pieces beg for high ponys and ballerina buns, this piece also looks amazing with your hair down, in braids or in curls.
________________________________________
Step out of the box and strut the strip wearing RED.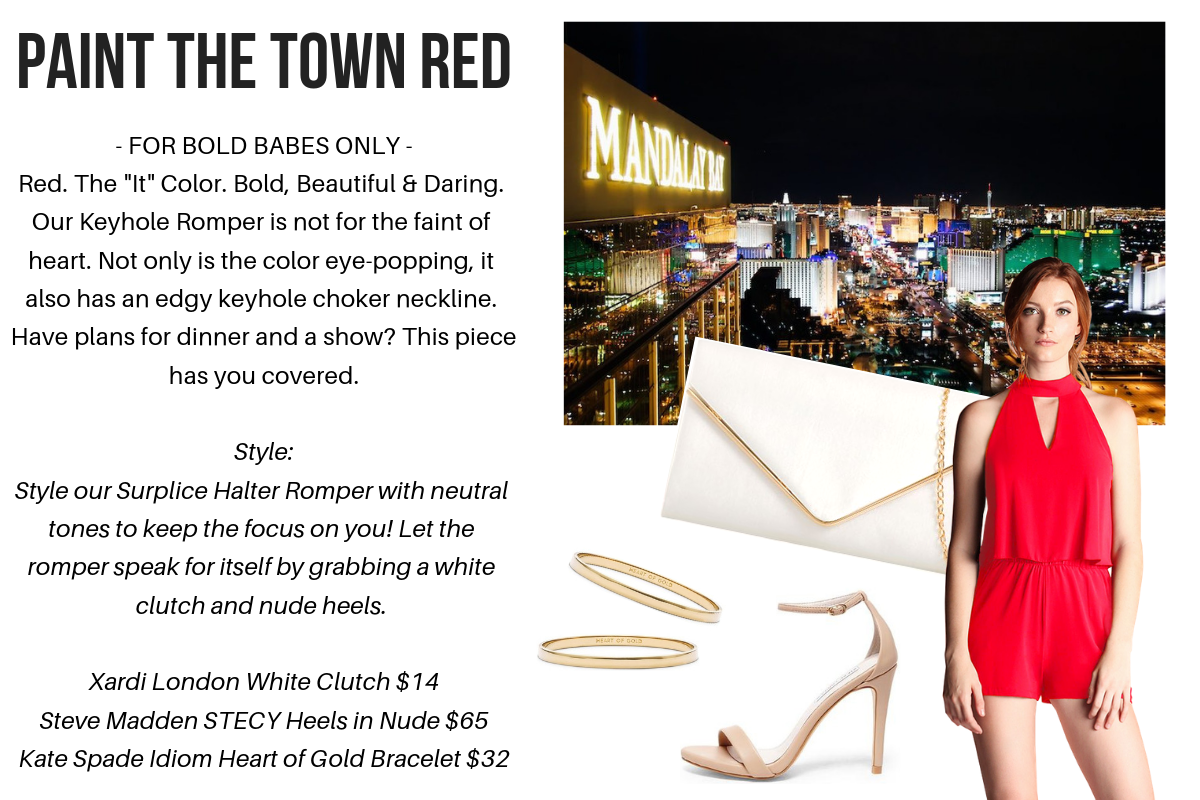 Again, we like to style our bold pieces with neutral tones to keep an attractive balance of focus. Our Keyhole Romper already has a complex body as is, so we like to compliment it with understated accessories. If you're looking for a more subtle version of this piece, throw on a kimono and brimmed hat and take it to your fave music festival.
____________________________________________
Anyone out there ready to slide into this baby? When you're looking for an original piece that brings the va-va-voom, look no further.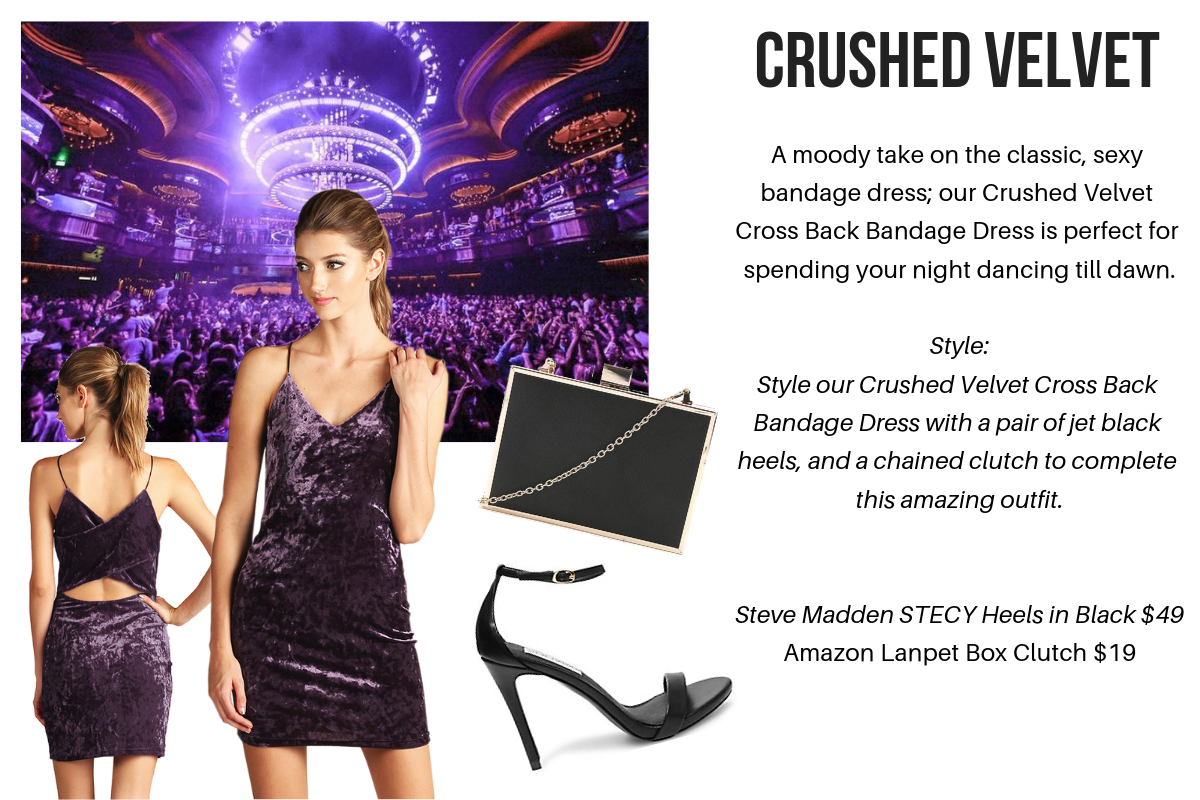 We like to keep things simple with velvet. Our Crushed Velvet piece doesn't need too much help when it comes in the style department. Since we like to play off of colors, opt out for some midnight tones, like black. Let the back detail speak for itself and roam far from including cover-ups with this piece.
_____________________________________________
Diving into festival season is exciting to the point where anticipation takes over your focus. Luckily, we have fits for all three days of your weekend planned out so you don't have to worry. Grab your festie best, Tyche pieces, and phone because you're gonna want to bust out a photoshoot in the middle of the grounds.
Get ready for Day 1 with our Cardi Wrap Top, perfect for any festival, body type and style.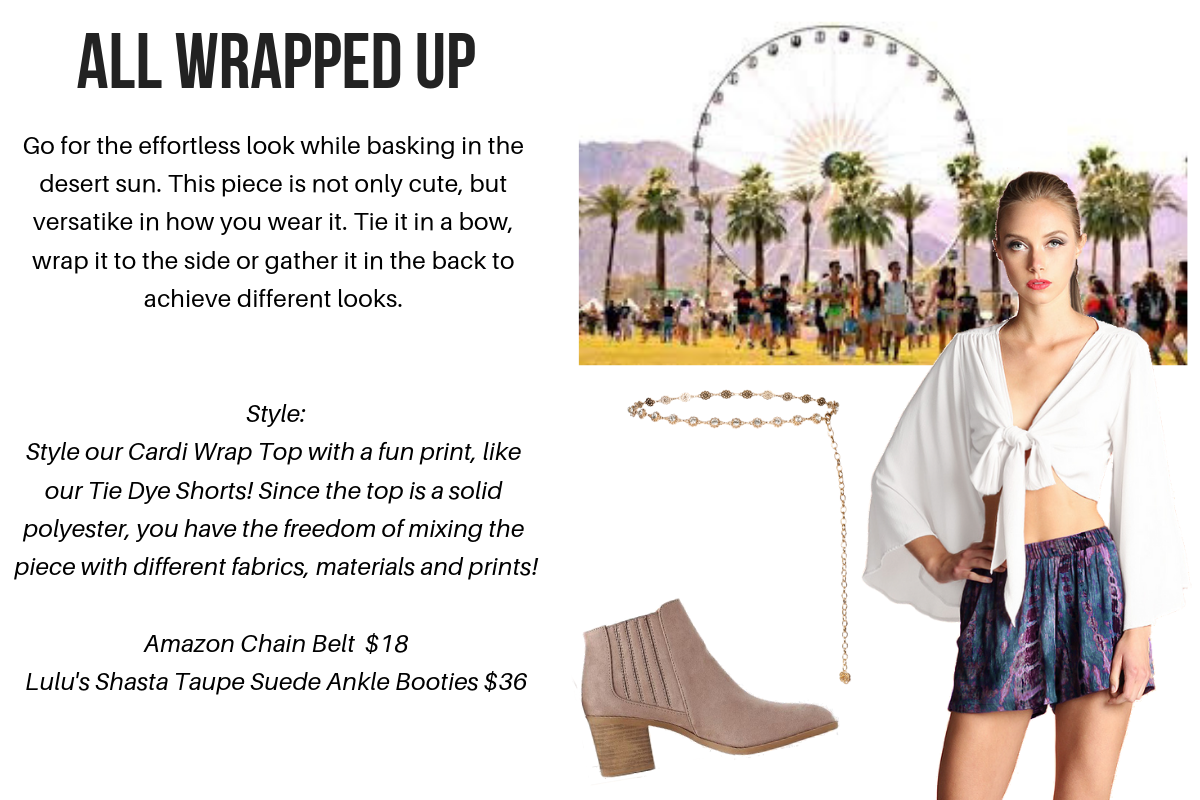 Since this top is a solid, get fun with pairing it with printed shorts! Here, we paired the piece with our Tie Dye Shorts to add some personality to the outfit. Add some dimension with a gold chain belt. Since no one likes their toes getting stepped on, slip into a bootie to be safe.
__________________________________________
Add some color this festival season, and you won't regret it!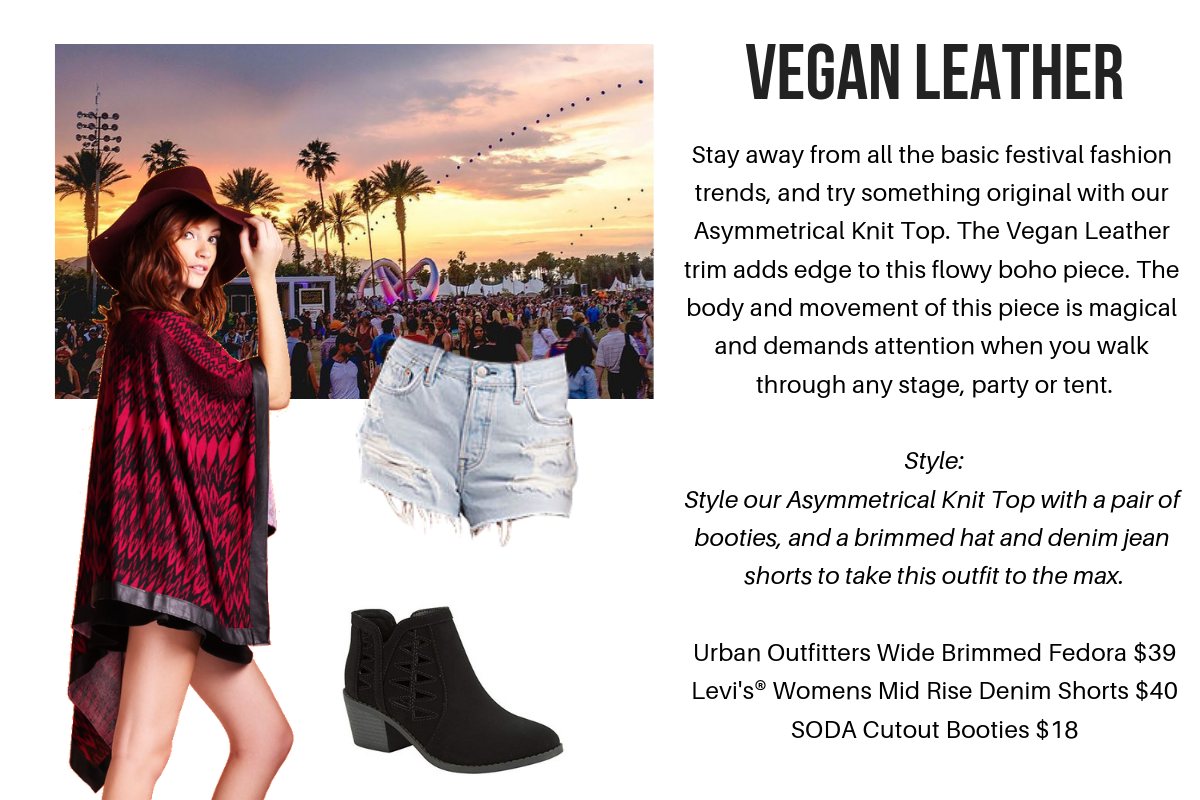 Our Asymmetrical Knit Top with Vegan Leather Trim is complex as it's bright, dark, soft and slick. As you walk to the next stage, this piece will be flowing in the breeze creating a dramatic effect. Although you'll probably be in the desrt, you'll be feeling like you're on a catwalk.
___________________________________________
Not looking forward to seeing all the basic jean short, cowboy boot and tank combos at your next fest? Don't sweat it because you'll be looking far from dull with this amazing piece.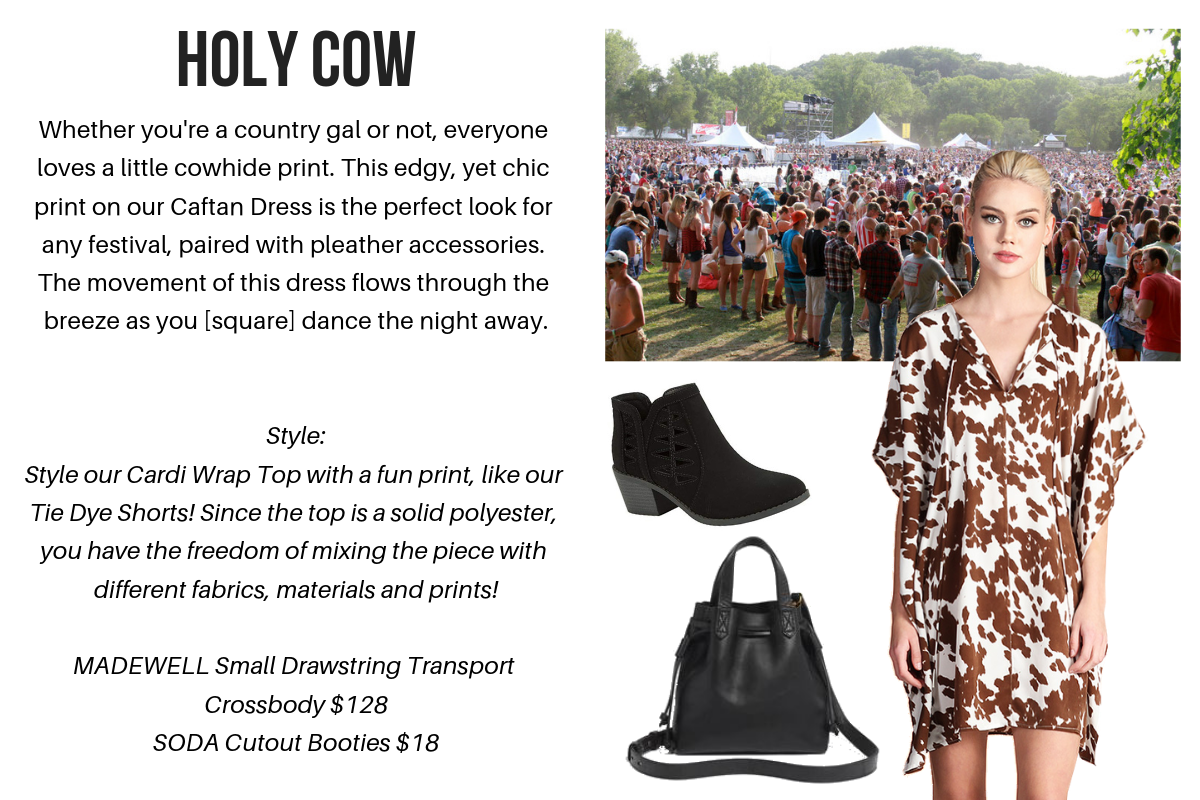 Playing off the animal theme, we found a pleather drawstring crossbody that compliments our Taurus Cow Print Caftan Dress perfectly. Keep the symmetry and grab your black booties and your outfit is complete! The airy movement of the dress will be swaying perfectly with every line dance you join in.
__________________________________
Shout out to all the fashion-forward cuties who are unafraid of eclectically. This fit is for you.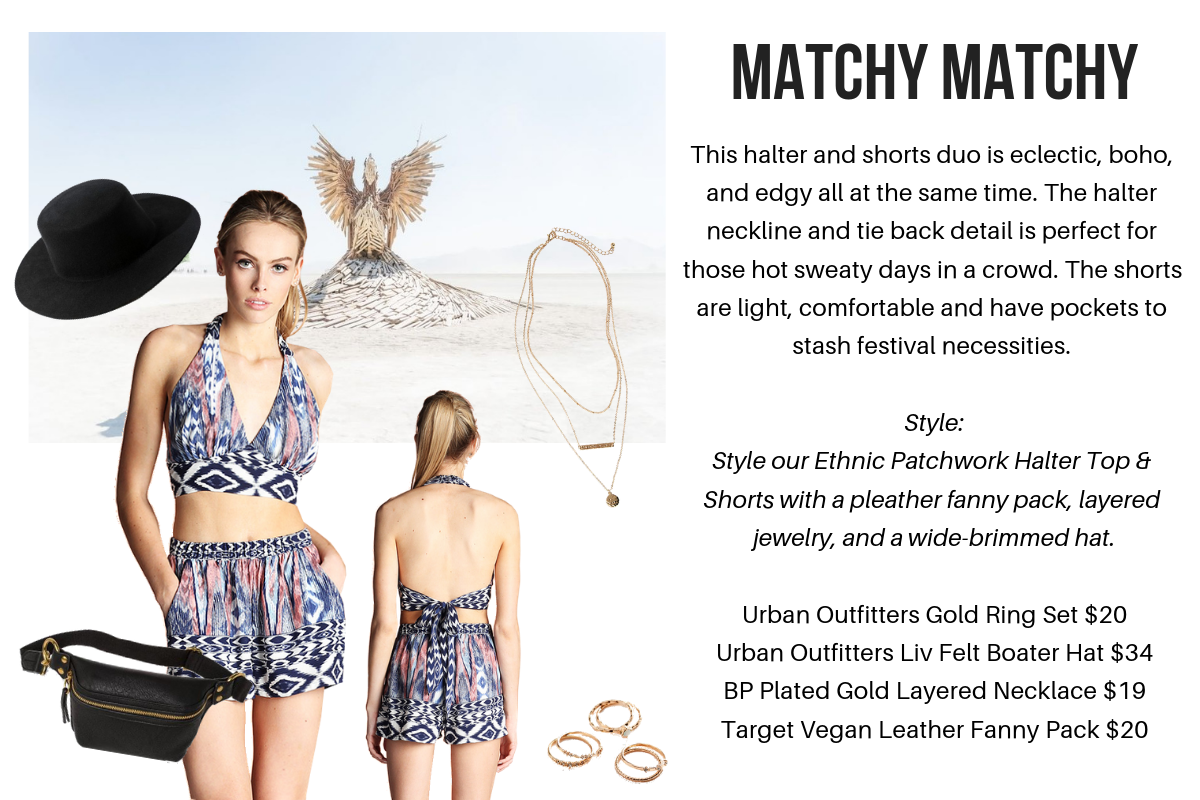 We're totally digging this matching set and since the amazing print is unique, detailed and complex, we want to finish the look with solid-colored accessories. You're not a real festival guru if you don't already have a fanny pack, so what are you waiting for? Add some minimalist jewelry and top it off with a large hat. We sell the Halter and Shorts separate so don't forget to add both to your cart!
____________________________________________
Obsessed with the boho-chic look? Add this Feather Print Kimono to your cart asap.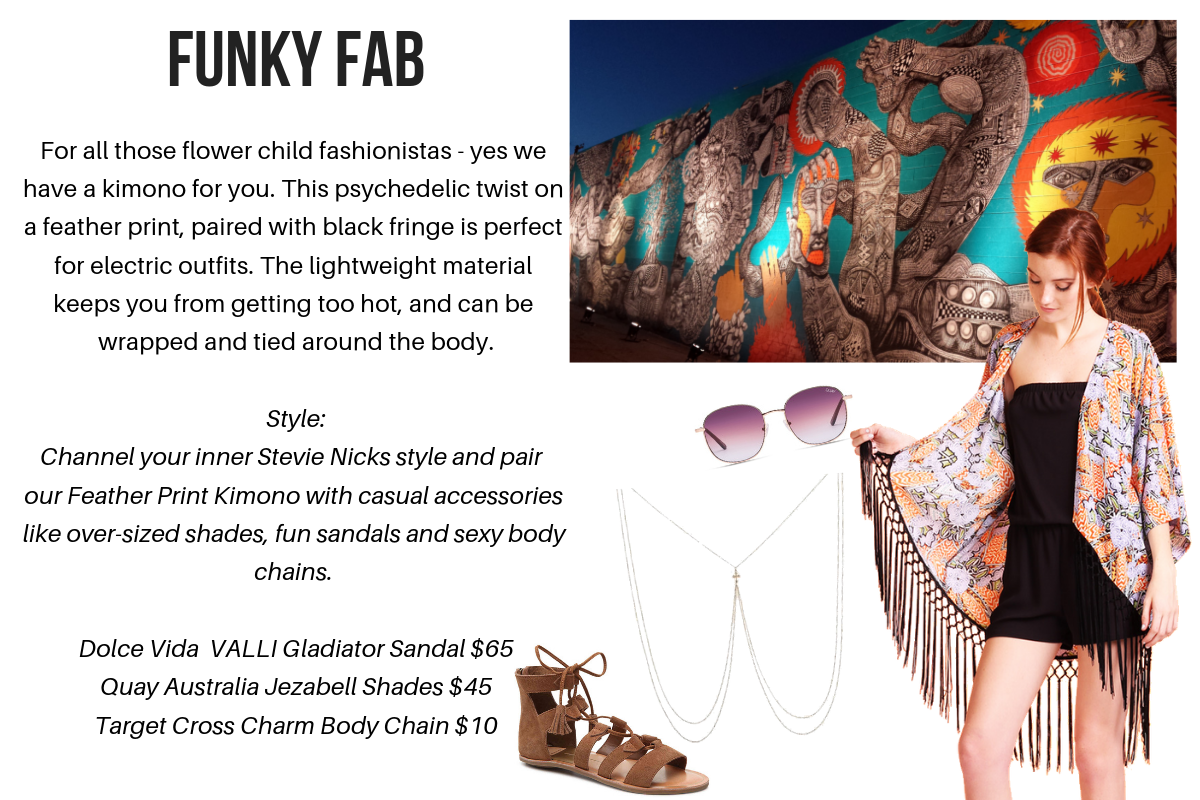 50% adorable, 50% effortless. Our Feather Print Kimono can be thrown over just about anything, and weighs almost nothing. The fun colors are complimented by a long-hanging fringe that drapes down near the knees. Throw on some shades and slide into sandals to complete the look.
_________________________
Once Upon a Time in Mexico, there was a fashionista ready to take on her sunny day in paradise, looking flawless and catching stares everywhere she went. The compliments where coming in hot, and every photo she took was Insta-worthy... Sound like a dream? Let's make it a reality with our resort wear!
Regardless of what generation you come from, a one shoulder dress is timeless and absolutely necessary to have in your suitcase.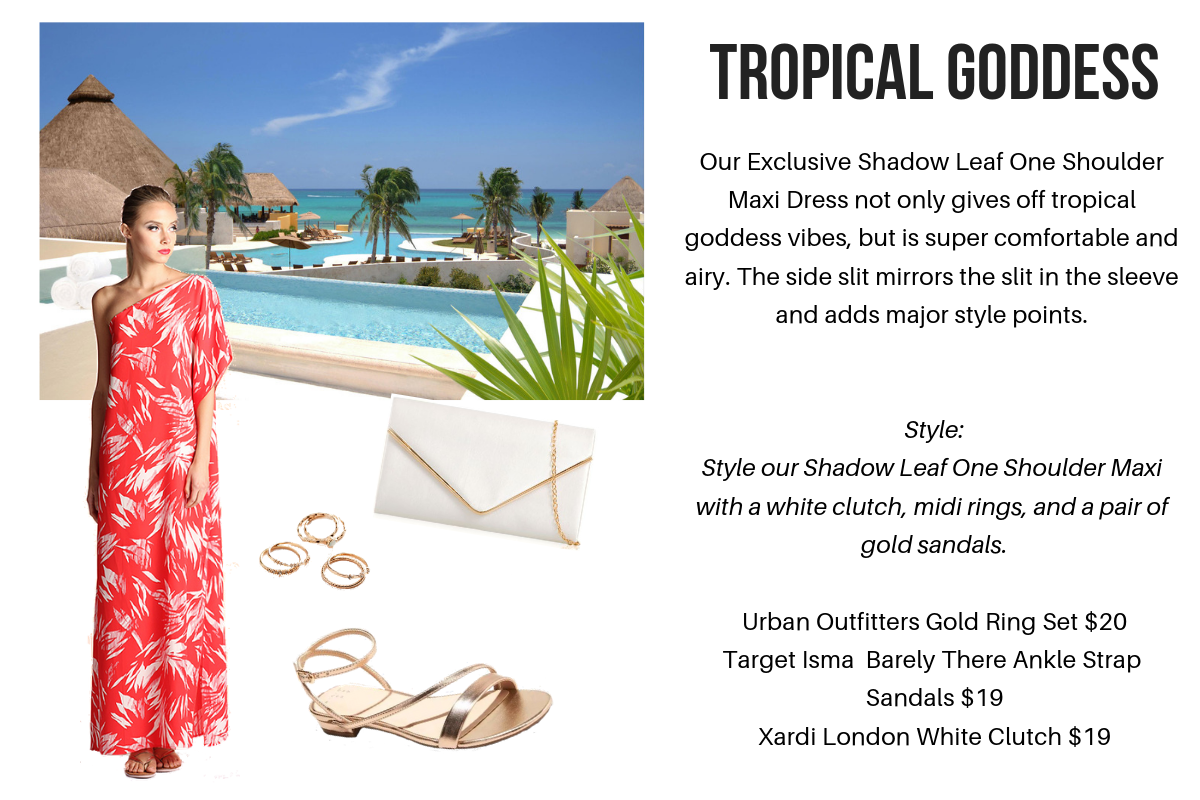 You're heading to a resort, so pack some gold accessories to add some flare. Play off of the white Shadow Leaf Print Dress and grab a white clutch to coincide with the color scheme. This piece was launched in Red, Blue and Black, so click on the picture to be redirected to the item page to decide with colorway is your fave!
______________________________
Although you may be on a cruise, resort or Airbnb, there's always nightlife to be found. Before you try hitting the scene in jean shorts and a tank top, order this sexy piece and arrive in style.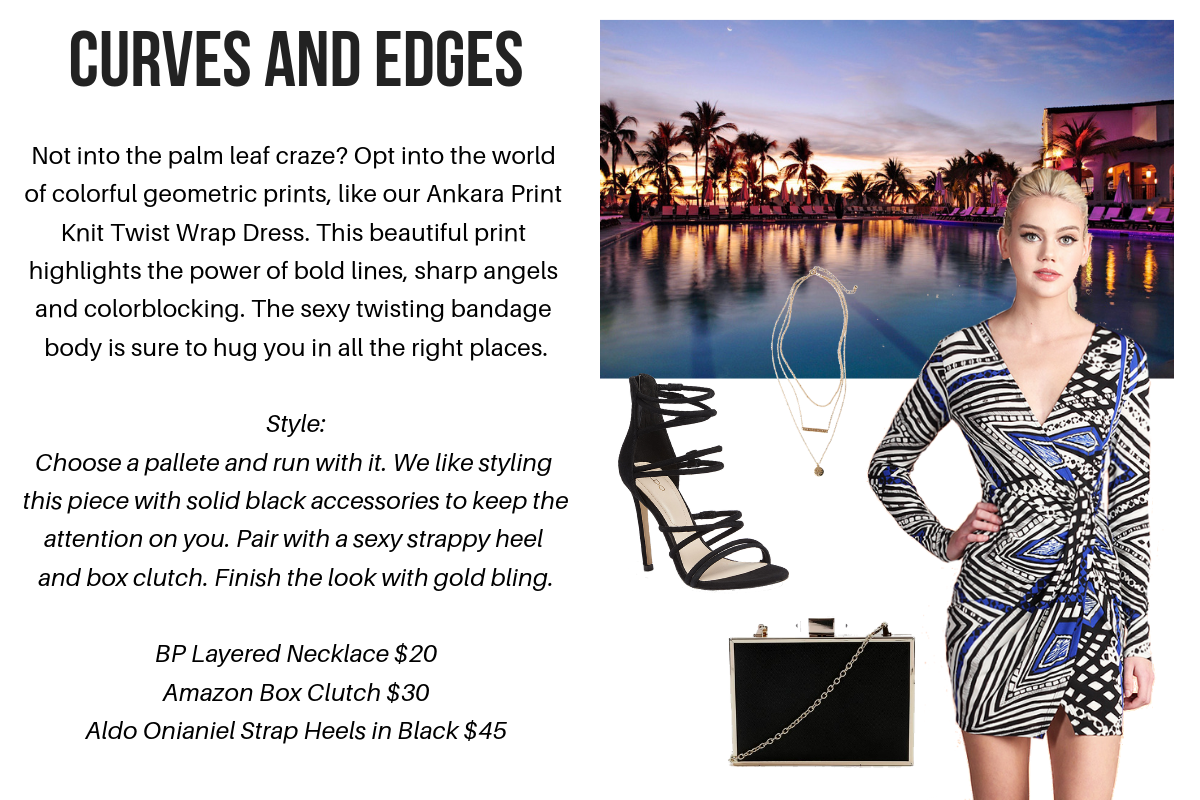 Play off the dark tones and make sure you have an arsenal of black accessories. We like to wear our Ankara Dress with black heels, a matching black clutch and layered jewelry. The tight wear of this piece is sure to hug you in all the right places, so be prepared for a snug feel. The long sleeves add a touch of formality, and will keep you warm in air-conditioned venues.
_________________________
If you don't have a little bit of this print on deck for your vacation wear, you haven't tasted the rainbow. As if stripes couldn't get any more flattering, we've formulated a color palette wearable for any skin tone.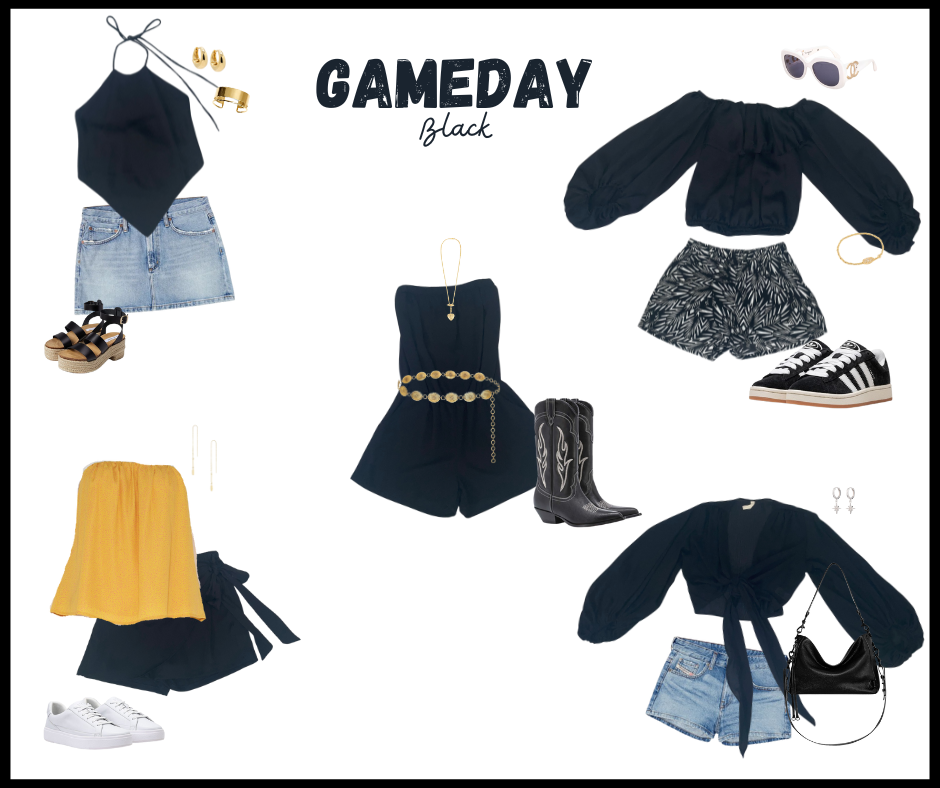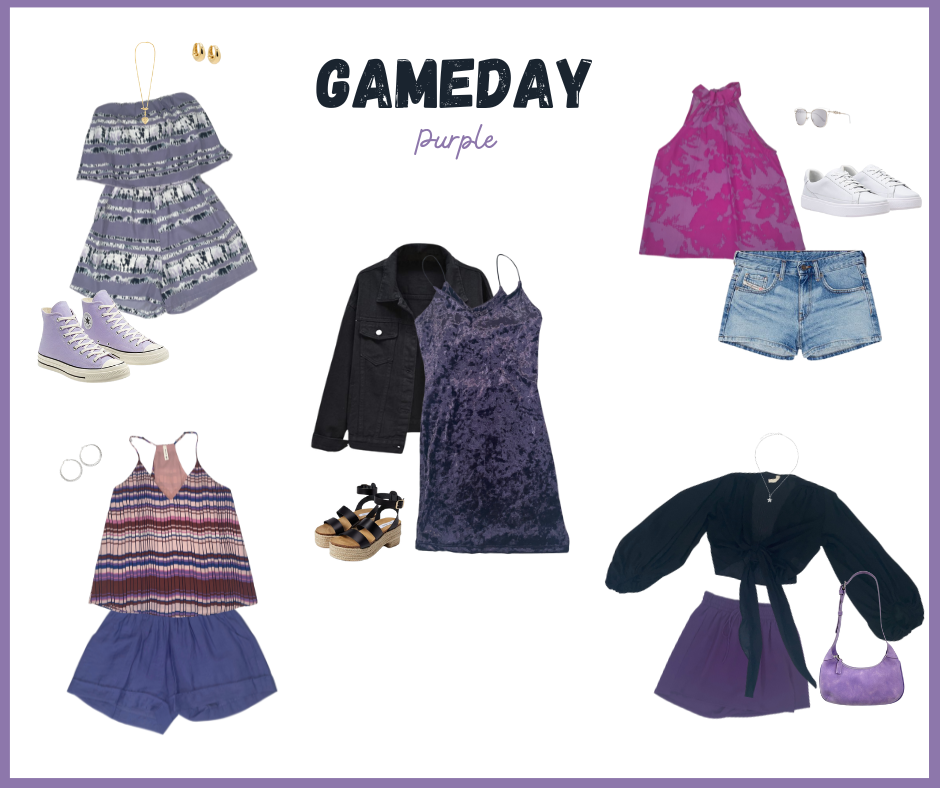 Even though this is a Spring-themed blog post, we are full speed running into summer. These fun pieces can we worn right into August. Whether you're heading to Mexico, Fiji or Florida, grab some wicker/straw accessories to play off a boho flare. Add some hoops for personality, and a chunky heel, perfect for walking in town, all the way to dancing the night away.
_____________________________________________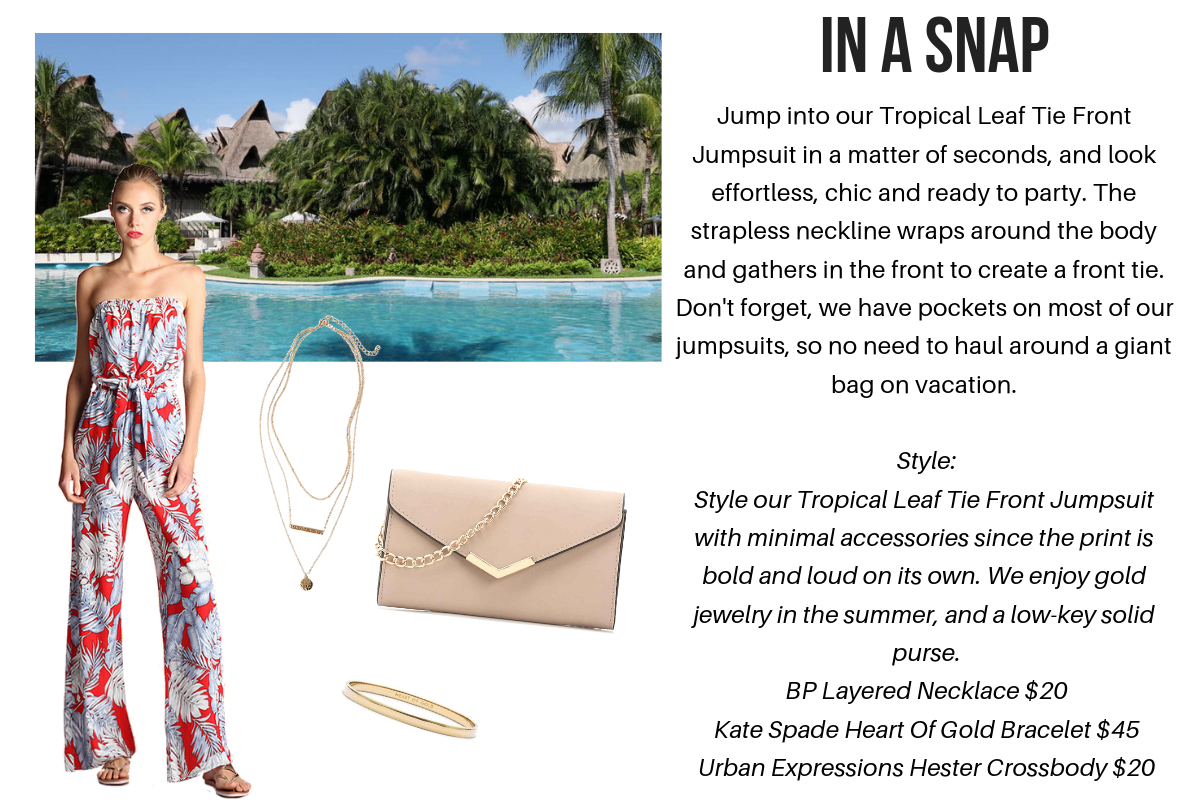 Taupe and gold tones are a reoccuring accessory fave over here at Tyche, simply because we offer such a wide variety of bold prints. We want to keep the attention on you and the Tyche piece you have chosen to wear. Add a touch of gold to introduce formality when wearing our pieces, like this one. Our Tropical Leaf Tie Front Jumpsuit doesn't need much assistance
___________________________________________
Tyche does not profit from this blog, nor receives compensation from the mentioned brands. Tyche does not own any of the products, features or photographs used in this blog post. This post was curated by the Tyche Public Relations Team for recreational, admiration, and hobbyist use. This list was compiled in a random fashion, not by sponsorship or purchased value. The Tyche Public Relations Team is not responsible for orders, purchasing, returning, reviewing or lost/stolen items listed in this post. Tyche is not in sponsorship or partnership with any of the above brands. If you have comments, questions, ideas, suggestions or concerns, please email pr@tychedonca.com.