Posted by Tyche on 1st Aug 2019
It's June, which means Vacation Season is well underway. Being one of the most traveled seasons in the world, we've decided to give you a few of our own travel tips, tricks and picks!
Some like to travel in pj's, we like to travel in style. Whether you're headed to a tropical resort getaway, backpacking in the wilderness or lavishing in a chic boutique hotel in the city, we'll make sure you look your tip-top best.
Flights (and/or the journey to your destination) can last anywhere from 1 hour to a couple of days, depending on how many stops you have in between! Beside looking effortless, why not feel good on the inside as well?
Slide into our Abstract Mosaic Print Strapless Top T-4576, and pair it with our super comfortable Everyday Easy Solid Jogger P-4596 for an airport-chic look. Pair with light jewelry and sandals for an effortless look. We hope you're bringing a carry-on, because we have some goodies we think you'd like to pack!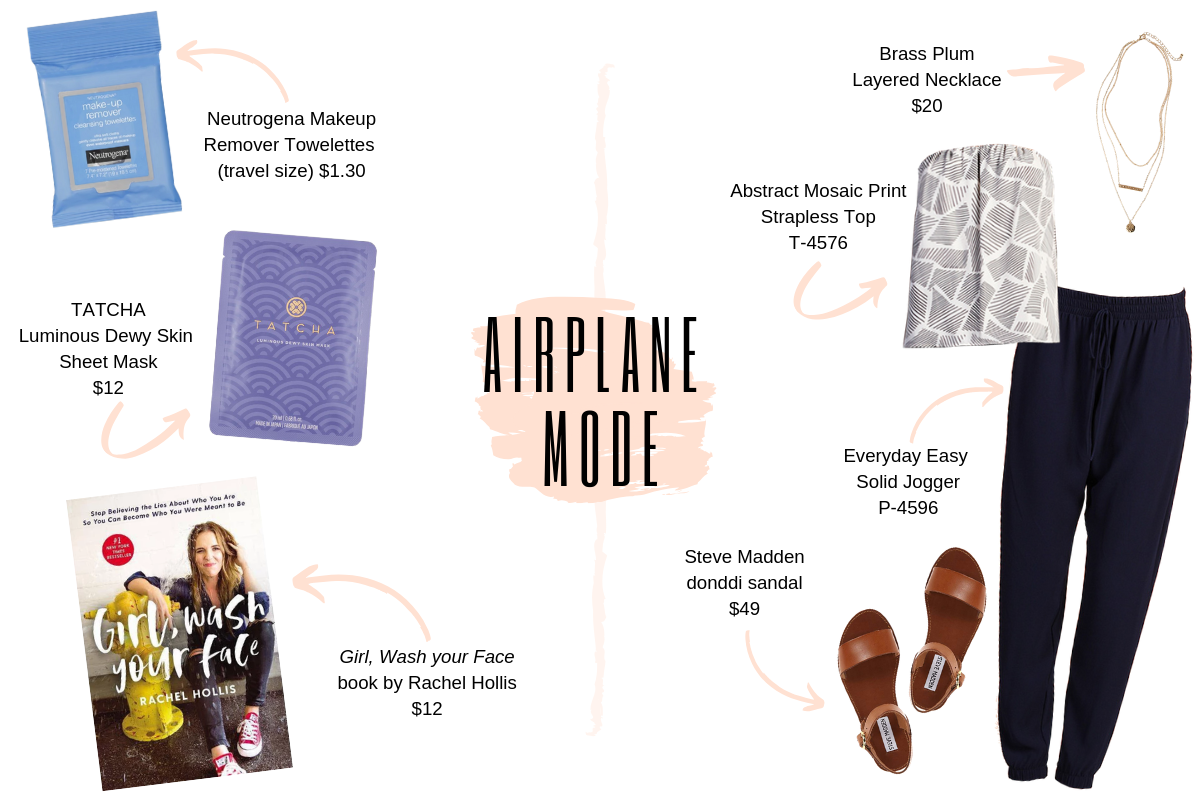 First things first - SANITIZE. Whether you realize this or not, [numerous] complete strangers have been sitting in the same chair you're about to sit in, so do yourself a favor and grab a pack of travel-sized WET ONES for $1.49 at Target to wipe down the area you're about to sit, sleep and eat in!
Once you're all cleaned up, opt into a book and face mask while on your flight. Yes, FACE MASK! We enjoy the Luminous Dewy Skin Sheet Mask by TATCHA, for $12 at Sephora! This product works wonders, giving you the enriching benefits of Japanese green tea, rice oil, algae and vitamin E. Head over to the restroom to rinse your face (before anyone else gets in there) or swipe your face with our fave facial wipes, the classic Neutrogena Makeup Remover Cleansing Towelettes, found at Target for $1.30 for their travel size. Wipe your face clean and apply the sheet mask gently and allow it to absorb into the skin. While we're waiting for the magic to happen, crack open one of our fave must-reads at the moment, Girl, Wash your Face by Rachel Hollis, found at Barnes & Noble for $14.99. This empowering, self-love book was written to encourage people to rid themselves of toxic energy and to embrace themselves for who they are (perfect for wandering the globe if you ask us!).
Once you're done with your face mask, you're going to feel fresh, relaxed and possibly ready for a snooze. Before you lay your head on a stranger's shoulder, plan ahead and order some of these sleepy time essentials! Let's start things off with the #1 travel staple = the neck pillow.
Before looking at designer pillows at high-end travel stores, check out the wide range of travel essentials that Amazon offers, like the Power of Nature Travel Pillow Package for only $20!! This little travel pack includes the neck pillow, eye mask, a set of earplugs and a sleek bag to put everything in! The pillow is designed with a heightened backing that gently cradles the head. The pillow also has a tie closure, to secure it to your neck, giving you a snug fit, that keeps from sliding.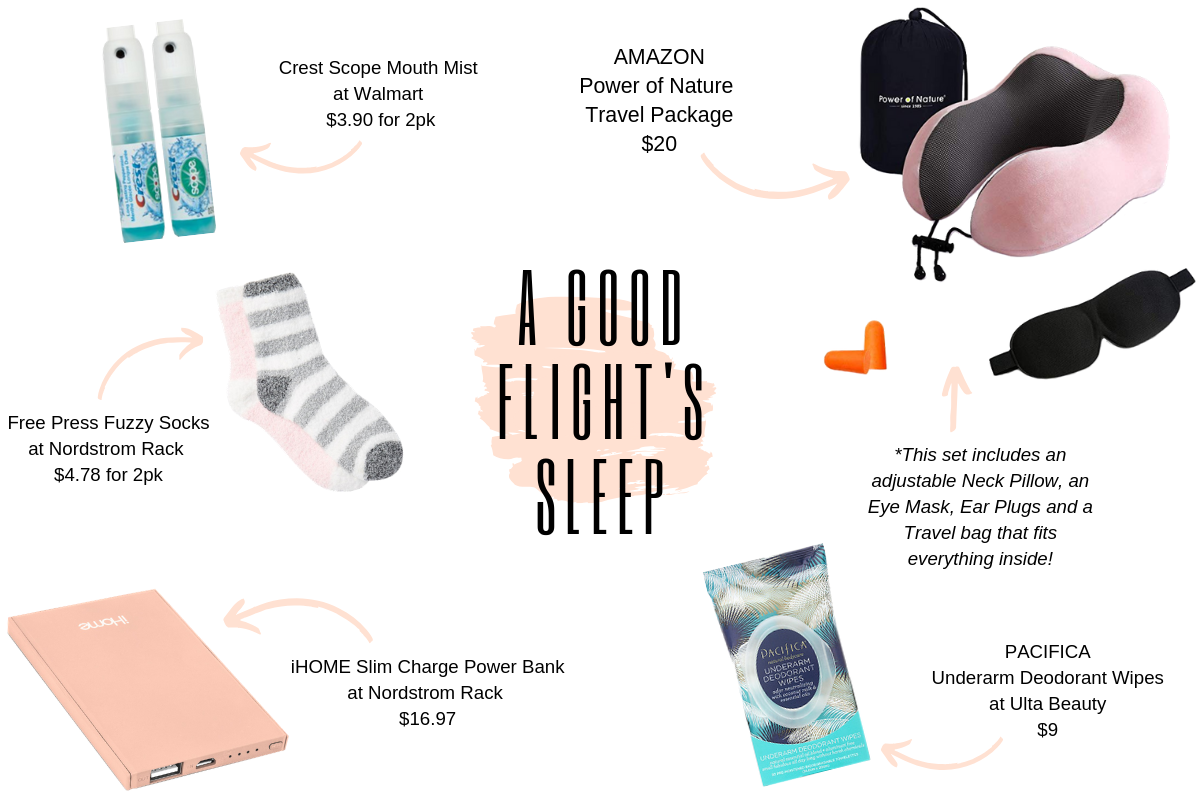 Before you fall asleep, cozy up with the most comfortable socks made by Free Press at Nordstrom! The Free Press Fuzzy Socks will be sure to keep your toes nice and warm on chilly flights, and will will allow you to have a deeper sleep (not to mention, $4.78 isn't a bad price for two pairs of fuzzy socks!).
While you're sleeping, make sure to keep your devices all charged up with our favorite portable charger, the iHome Slim Power Bank, only $16.97 at Nordstrom Rack! You may ask, why do I need a portable charger, when I can charge on the plane? This solution was brought up by a little issue I ran into two weeks ago while on a 5 hour flight-the USB ports on the plane were not working! Then and there, I wished I had a portable charger in my carry-on, so that I can continue listening to my music. Thankfully, I've found some cheap alternatives to some of the devices available at the airport.
Slide into your socks, plug in your phone and do a quick "fresh check" to make sure you aren't the smelly person on the plane! We loooooove the Crest Scope Mouth Mists, found at Walmart in packs of 2! Slide one into your carry-on, purse, suitcase or even your pocket to insure your breath isn't kickin'. Another area that isn't cute to be smelly in, is your underarms! Thankfully, Pacifica has created a sleek, no-mess alternative to deodorizing those areas. PACIFICA Deodorant Wipes are $9 at Ulta Beauty, and pack easily into any-sized bag.
After you wake, you're probably going to look a little...out of place. You might have a classic bed head look, or sleepy eyes. Wake up and feel energized with our favorite on-the-go energy supplement, Emergen-C Drink Mix at Target for $4.49 for a pack of 10!. Emergen-C is a small packet of Vitamin C powder, that is proven to help with your immune system, get you energized, and help you deter early symptoms of the common cold. Pour some into your water bottle or ask your attendant for a glass of water to mix it into. Drink up and feel the benefits.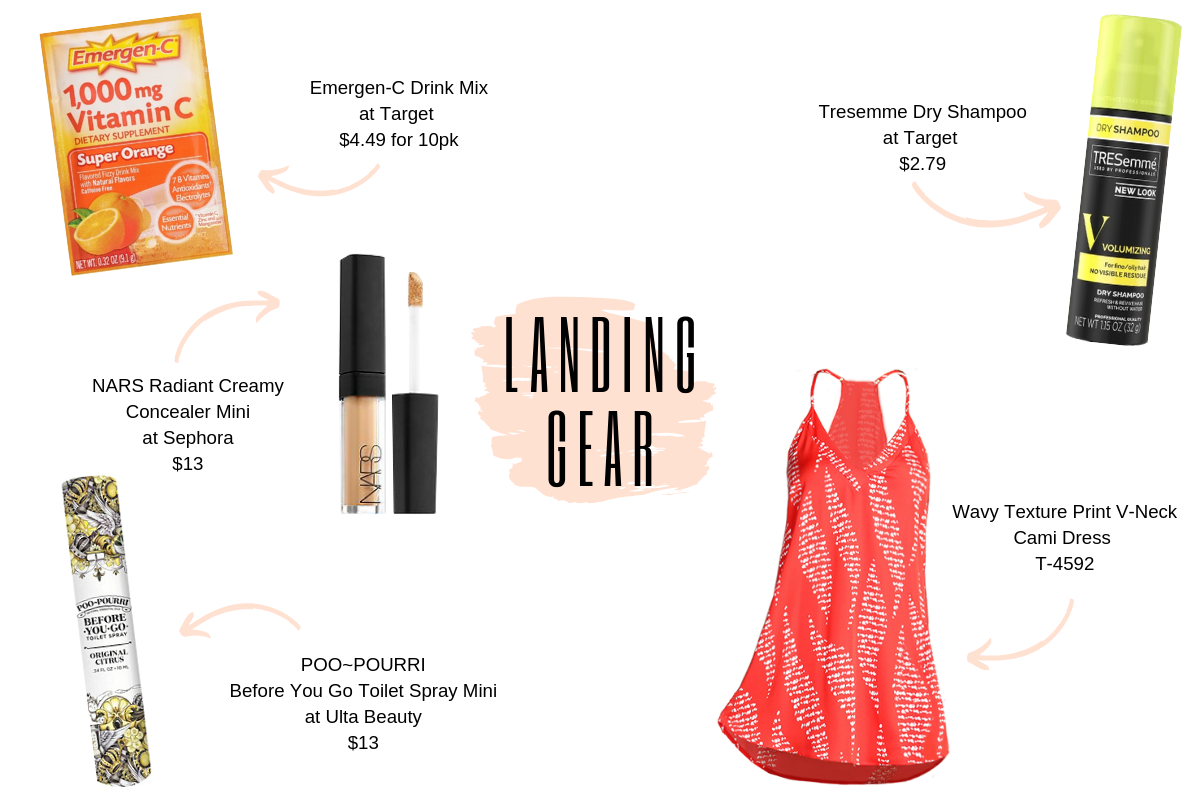 Need a pick-me-up for the locks? Try our all-time fave Dry Shampoo by Tresemme at Target for $2.79; (you may want to visit the restroom for this one). Simply (and neatly) tousle your hair and spray the dry shampoo into different sections of your scalp. With your fingertips, lightly rub the product into your hair, to insure there are no noticeable spots of spray on your head.
Your destination is nearing, which means it's time to change! Yes, CHANGE! You've spent hours on end, lounging on a plane and now it's time to look effortless as you descend into your getaway paradise. Head over to the restroom and change into our chic (and easy) Wavy Texture Print V-Neck Cami Dress. This super cute dress has adjustable straps and a v-neckline - perfect for adding your fave necklaces.
While you're in there, take your travel size POO POURRI Before You Go Spray and use the toilet! This funny little spray comes in handy when you're sharing a restroom, using someone else's restroom or if you're in a public restroom. To use, spray into the toilet, do your business, and flush. It is also useful to spray into the air or into a trashcan. Either way, you don't want to be known as the person on the plane who made the restroom start smelling!
After changing, remember to freshen up your face with our favorite concealer, found at Sephora for $13! The NARS Radiant Creamy Concealer Mini is pocket-size AND packs a punch. Apply small amounts to the under-eye area (and other areas as needed) and take your ring finger to lightly blend the product into your skin.
Need to kill more time? Listen to some awesome playlists found on the Spotify App. We like playlists "Sleepy time", "Morning Acoustic" and "Airplane Mode". Need a little Entertainment? Download the Amazon Prime Video App! Download Movies and Shows right to your phone! Regardless if you have service or are on Airplane mode, this little app can play high-quality movies, directly on your devices. Want to learn a new language (or at least get the basics down)? Download Duolingo and choose a language to start learning! When you make an account, the App takes you through the basics of greeting people and asking questions. Not a beginner? You can chose to skip ahead and master new words.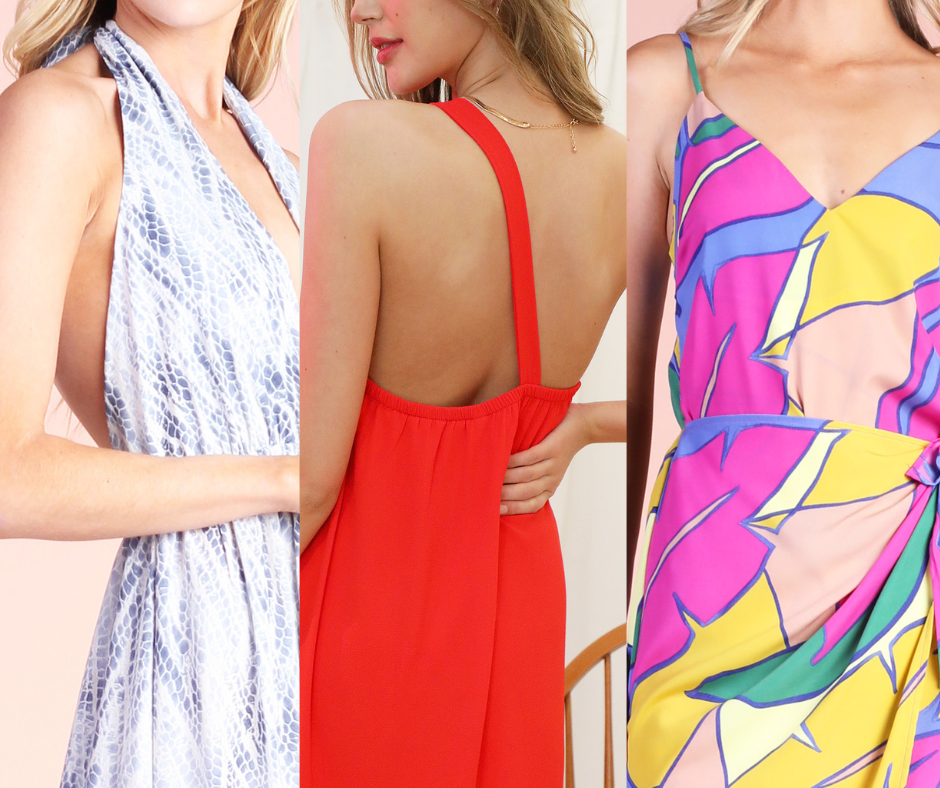 And just like that, you've landed and are ready for your vacation getaway!
These are just a few of our own accumulated ideas and experiences. If you have any to share, we'd love to hear from you!
Tyche does not profit from this blog, nor receives compensation from the mentioned brands. Tyche does not own any of the products, features or photographs used in this blog post. This post was curated by the Tyche Public Relations Team for recreational, admiration, and hobbyist use. This list was compiled in a random fashion, not by sponsorship or purchased value. The Tyche Public Relations Team is not responsible for orders, purchasing, returning, reviewing or lost/stolen items listed in this post. Tyche is not in sponsorship or partnership with any of the above brands. If you have comments, questions, ideas, suggestions or concerns, please email Monique Lazaro at pr@tychedonca.com.