Posted by Tyche on 9th Sep 2021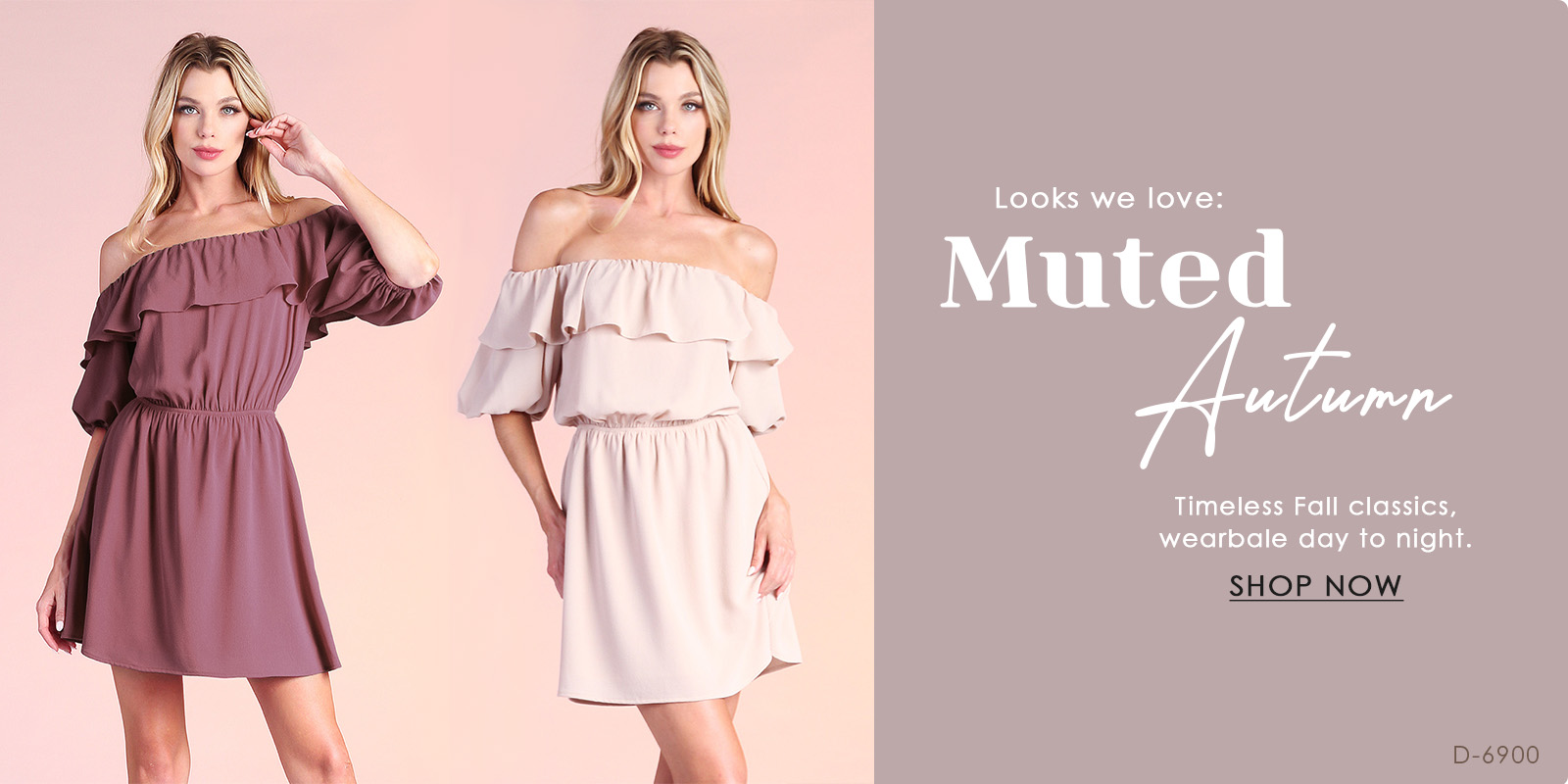 Hey, you. Tone things down a bit and dive into our new muted pieces. From solids to prints, tops to full-length ensembles, there is always something to adore from Tyche.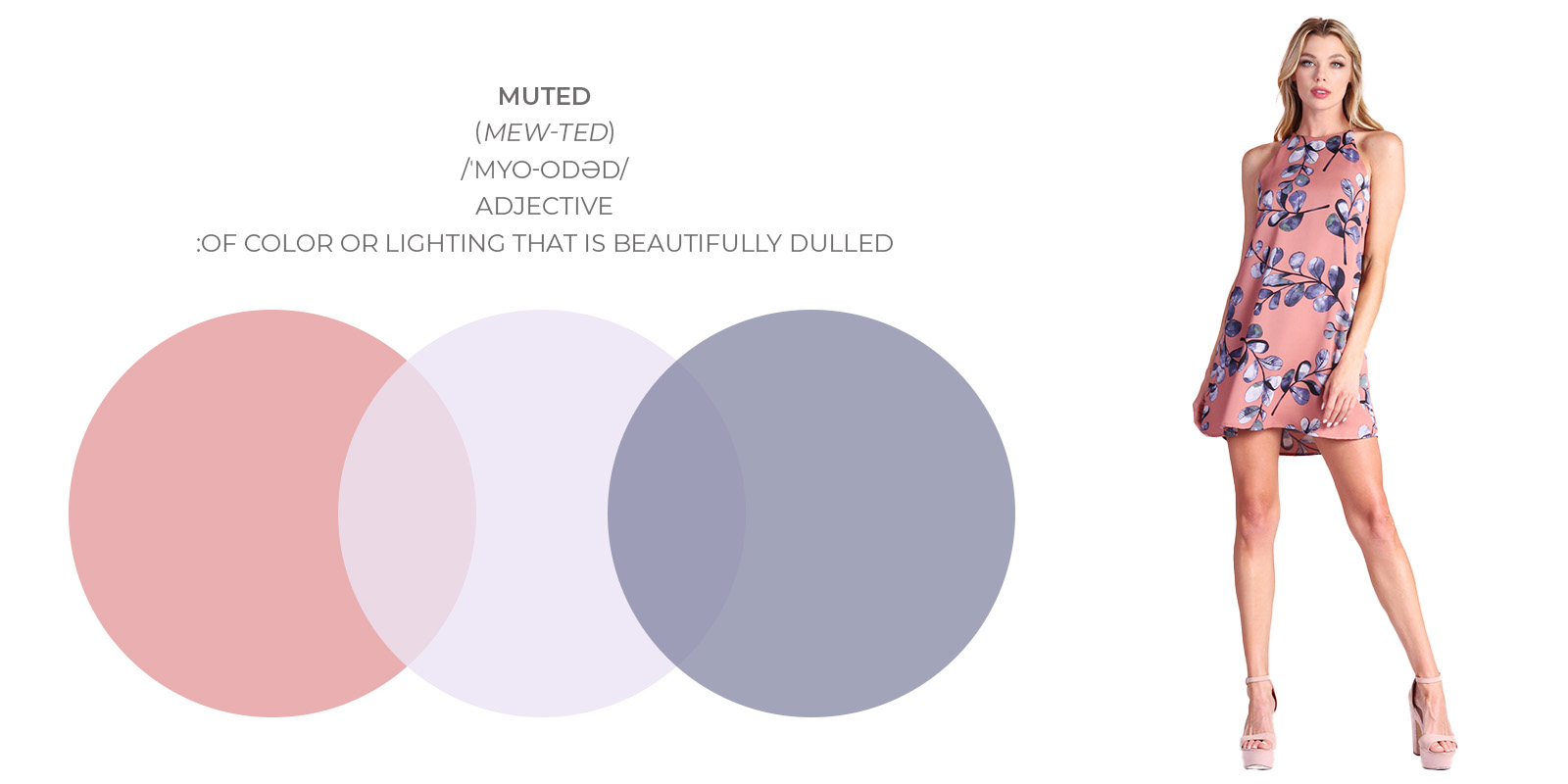 There's no doubt that Tyche prides herself on the use of bright, bold, juicy colors.
This Fall, in addition to our "Fall Brights" collection, we wanted to showcase some of Tyche's very beautiful muted-toned styles. Some of this collection features styles that are available in both muted and bold colorways, prints that teeter in the middle, and classic Tyche bodies we love and have restocked. If you follow the rules of wearing neutrals in Fall, spice it up with wearing muted pinks, blues, greens and more!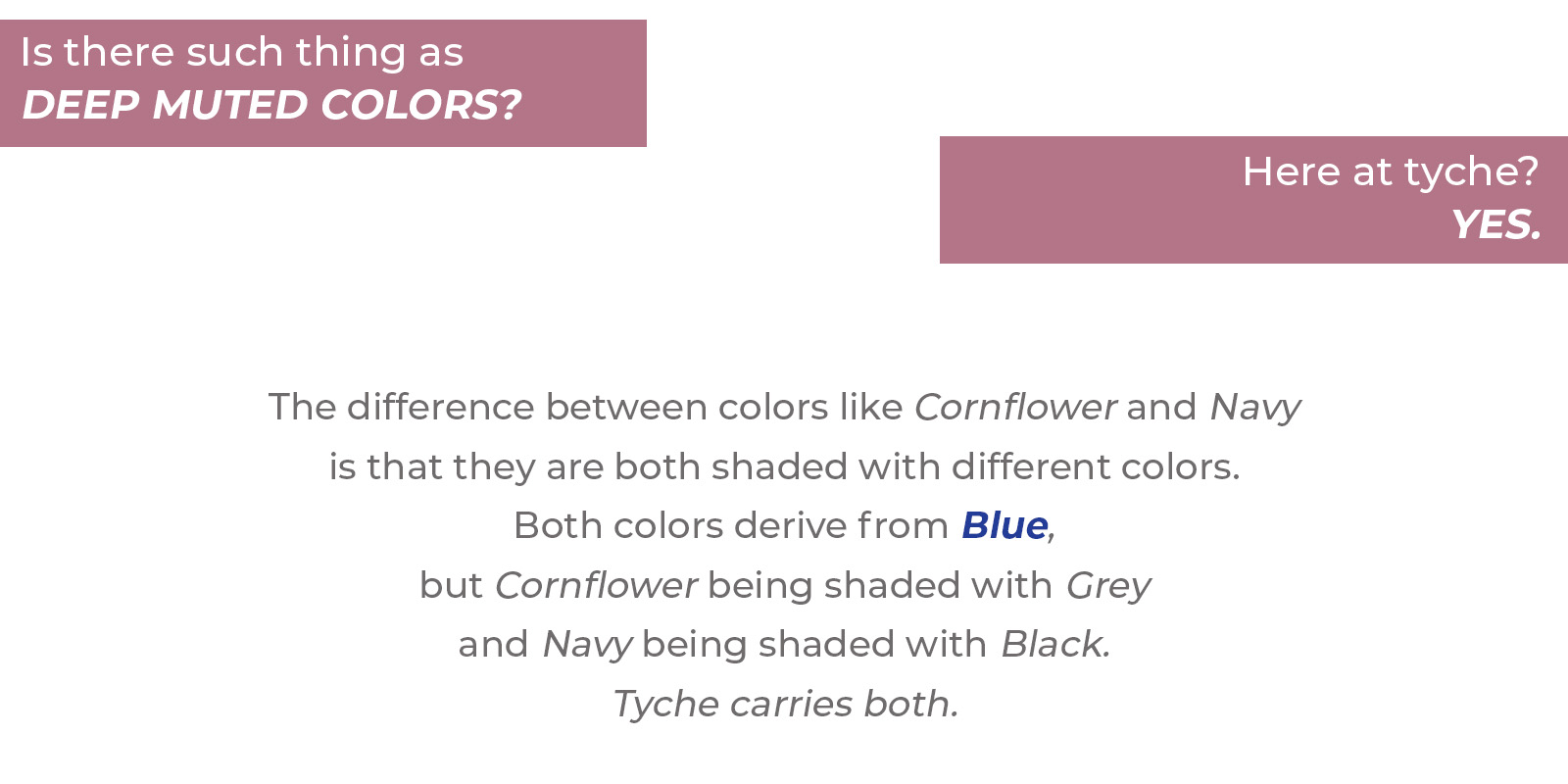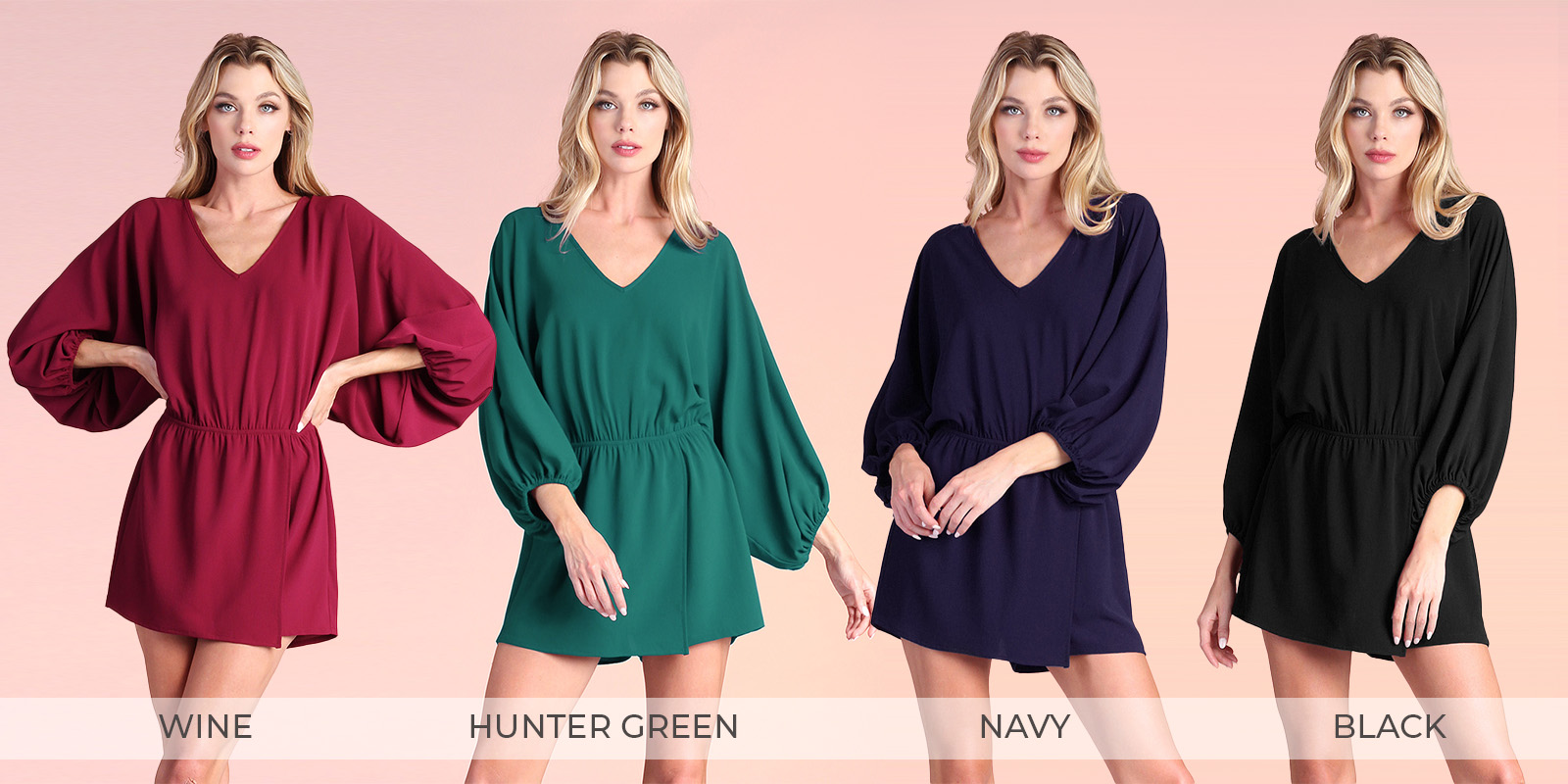 Our beautiful Textured Solid V-Neck Dolman Romper is available in Wine, Hunter Green, Navy and Black - all classic colors filtered with black to create a deeper muted tone, yet still keeping the timeless richness of the color.
These colors are also known as Jewel Tones, known to make the wearer feel luxurious and glowy. These timeless Fall Solid Colors can also be found in our "Muted" Collection alongside all of our Grey-Tones Colors.
Although these shades differ from colors like cornflower, dusty rose, mocha and more, they still differentiate themselves from Classic Tyche Solids like Tomato Red, Emerald, and Fuchsia (colors primarily seen in our Spring-Summer Collections).
Last but not least, our Tyche design team has created some beautiful Muted-Toned Prints that can be worn day-to-night. There is a growing trend for neutral tones, minimalism and simplicity in the fashion industry. Tyche added a little spice and blended muted with bold, constructed new matching sets all while insuring that these pieces are going to stay fresh in the closet for years to come.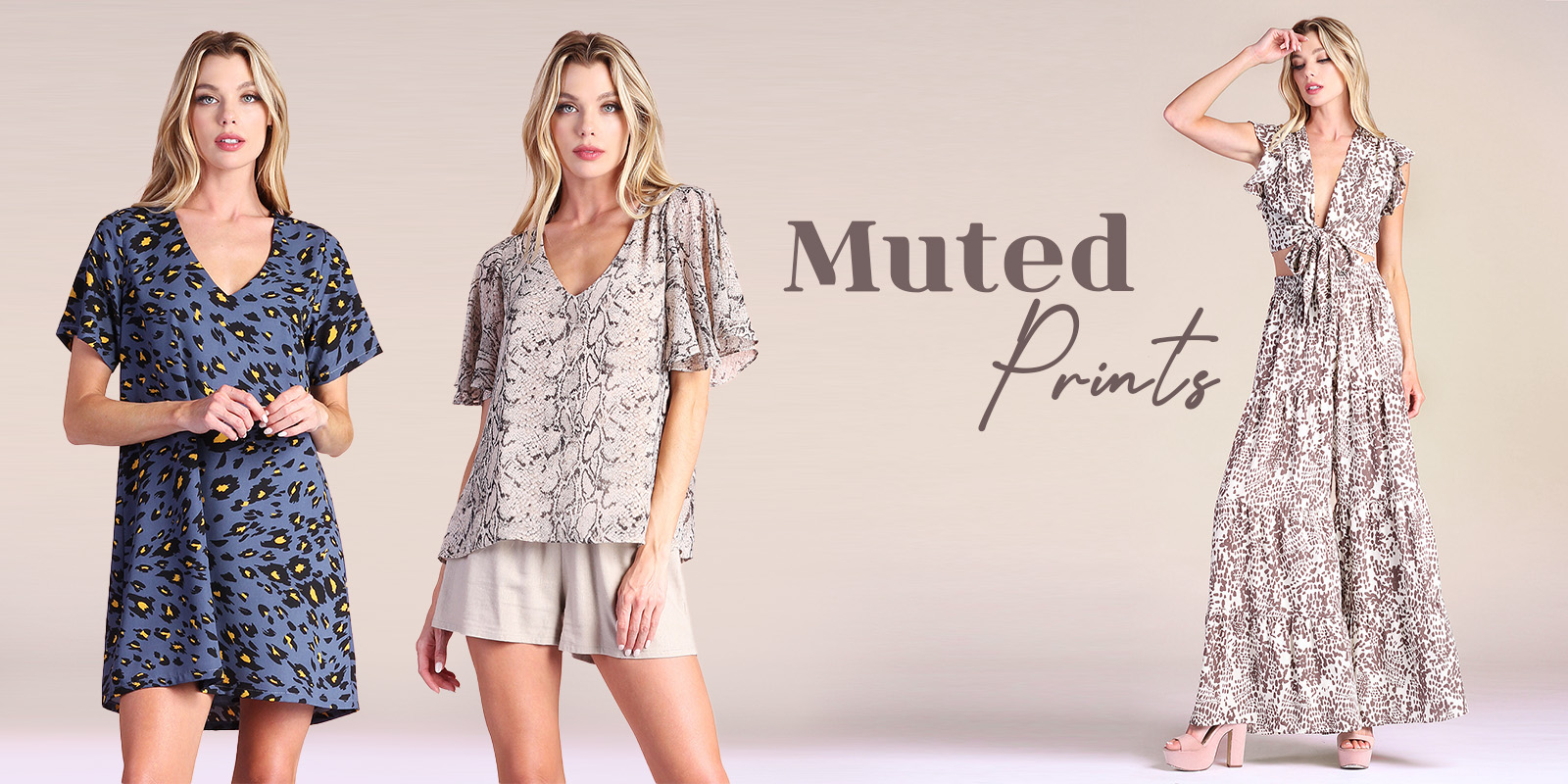 Styles left to right: D-6910, T-6767 + P-6570, T-6807 + P-6808.
What are you waiting for? Please enjoy our collections and check back weekly for NEW ARRIVALS and Restocked Styles!
XOXO, Tyche
This post was curated by the Tyche Public Relations Team for recreational, admiration, and hobbyist use. This list was compiled in a research-fashion, not by sponsorship or purchased value. The Tyche Public Relations Team is not responsible for orders, purchasing, returning, reviewing or lost/stolen items listed in this post. Tyche is not in sponsorship or partnership with any other brands. The styles listed in this blog post may be sold out, discontinued or unreleased. If you have comments, questions, ideas, suggestions or concerns, please email Monique Lazaro at pr@tychedonca.com.
vici lulus amazon fashion prime vacation vacationwear outfits reddress mint julep pink lily fabrik closet candy dolce gabana chanel dior high fashion nyfw lafw dtla downtown los angeles fashion district wholesale wholesalers buyer buyers boutique owner small business blogger jamienkidd emiyrosehannon arianagrande tiktok instagram windsor windsorstore forever21 hm zara sale clearance charoletterusse thecloset fashionq bcbg gucci louisvuitton neverfull giveaways speedy golden goose roses the bachelor bachelorette bachelorabc chrisharrison hannahann madisonprew tiktok charli dixie justin bieber hailey bieber kendall jenner kylie jenner kylie cosmetics kim kardashian coachella chrispy muw makeuptutorial taylorswift puertorico cuba honduras columbia texas florida southcarolina Louisiana boutique style fashionista classy fashionable instagramfamous famous popular followers follow me revolve lucyinthesky revolvearoundtheworld stagecoach