Posted by Tyche on 18th Apr 2019
Whether your special day is in an indoor arena, outdoor stadium, or an intimate venue, you HAVE to look prime on your graduation day. Here is our survival guide on all things graduation - from early morning makeup, to late night shenanigans.
First and foremost, turn off that alarm, open your Starbucks App and start ordering your morning drink. After your caffeine fix, put on a face mask and SHOWER. It's time to stop procrastinating and FINALLY decide what you're wearing for your special day. It might take a while, only because you're going to want to wear all of our pieces.
Semi sweet, semi sexy. Our Strapless Side Wrap Romper is not only ultra chic, but also very airy and comfortable. This piece will keep you looking (and feeling) fresh all day long.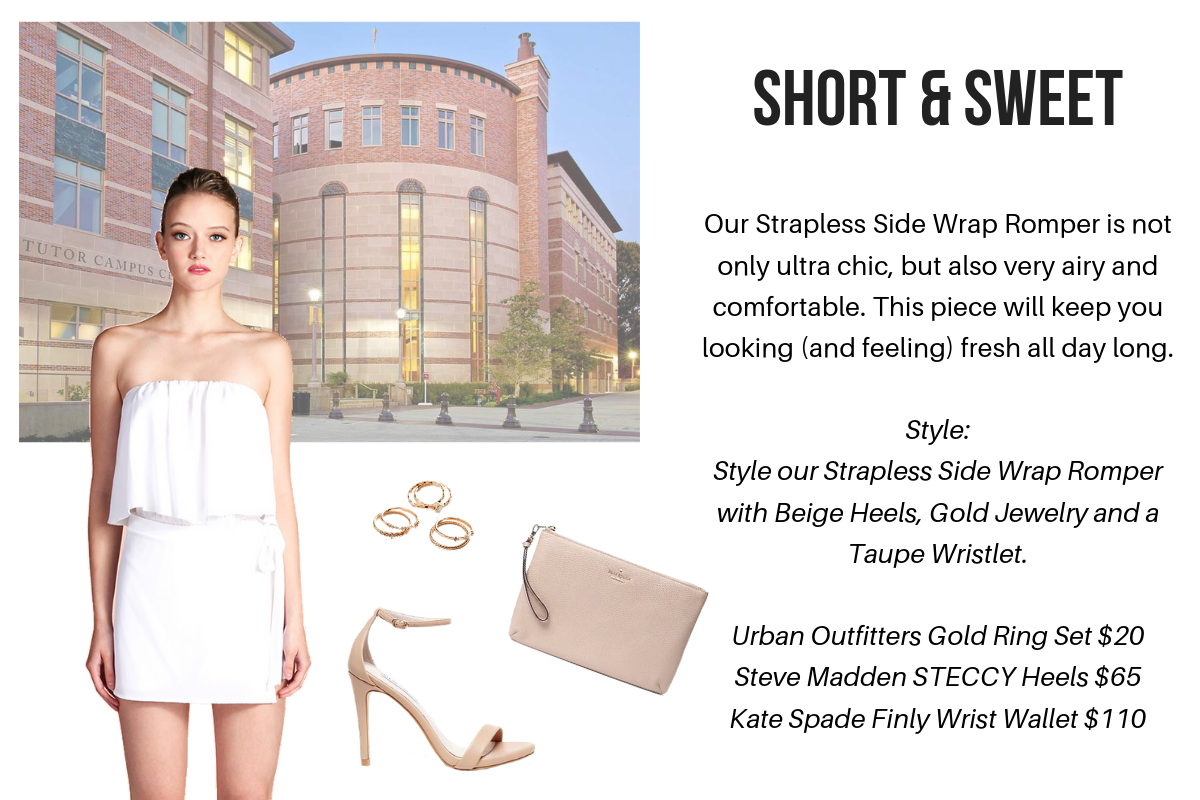 Pair with just about any colored accessory, but we prefer chic neutrals for an ultimate summer look.
Style Number: R-4610
Email shop@tychedonca.com to order.
_________________
Want to add a little personality? You can never go wrong with a good summer ruffle.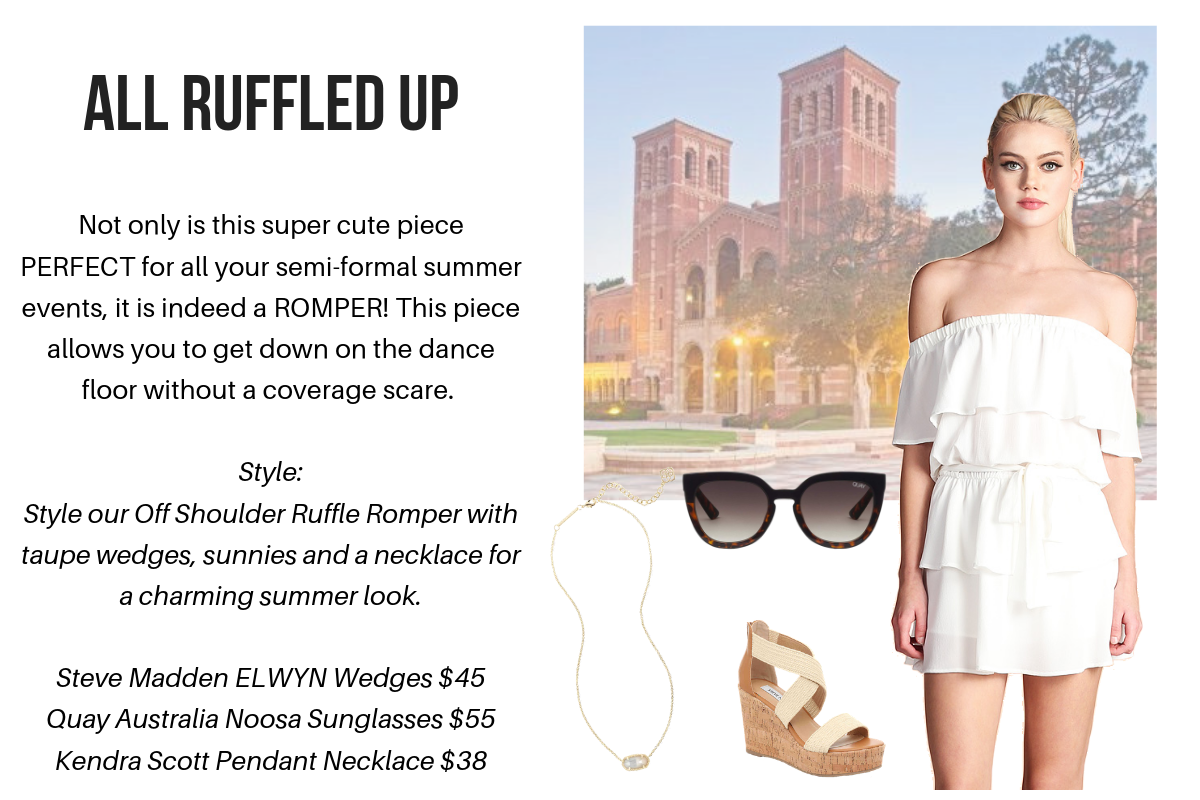 Ruffle some feathers with this adorable romper. This Off Shoulder piece features an elastic waist for comfort and finishes with a tie belt feature that can be styled or removed to your liking. The fabric is light in wear and soft to the touch, so you won't feel overwhelmed with weight or body. Wear it to your graduation, bridal shower, Easter celebration or Spring soiree!
Style Number: R-4462
________________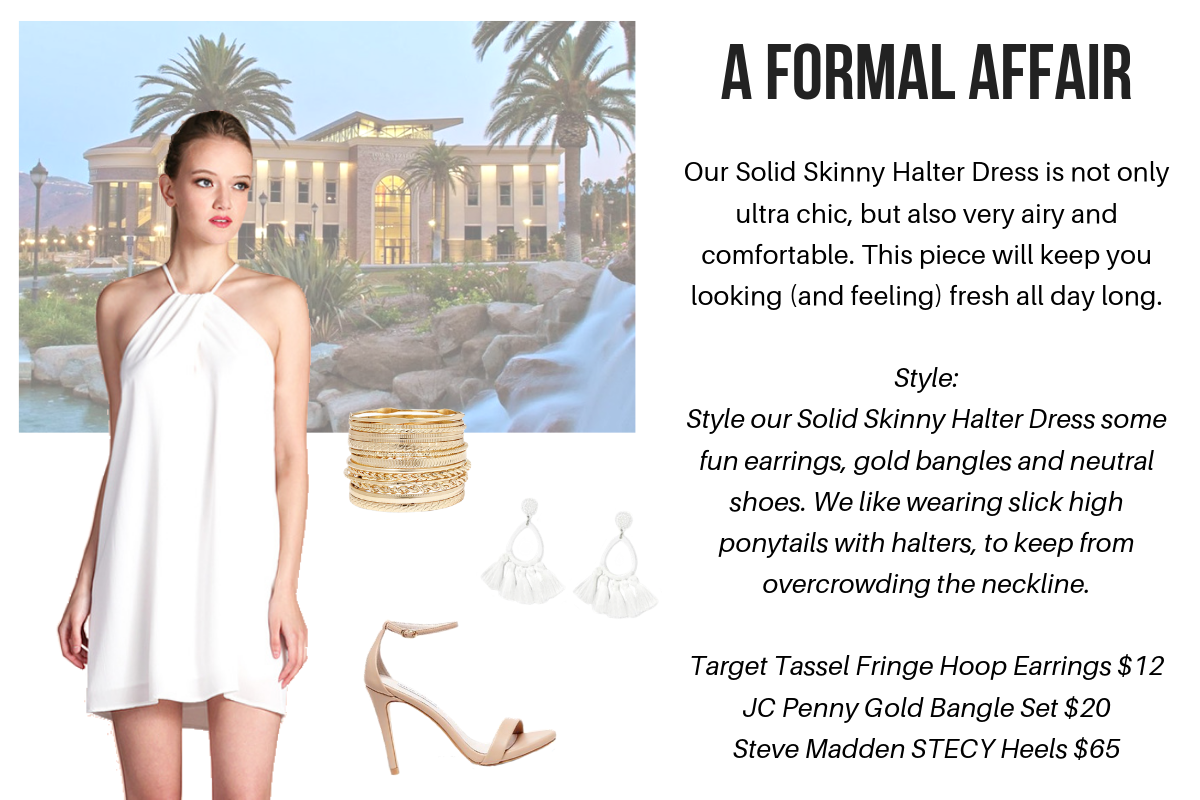 Elegant, classy and chic; everything this dress embodies. Our Skinny Halter neckline is perfect for summer, showing off the shoulders and keeping you cool in the sun. Wear this dress to your graduation, friend's wedding, to yacht party or to the derby. Pair with heels, a clutch and some fun accessories.
Style Number: D-4667
________________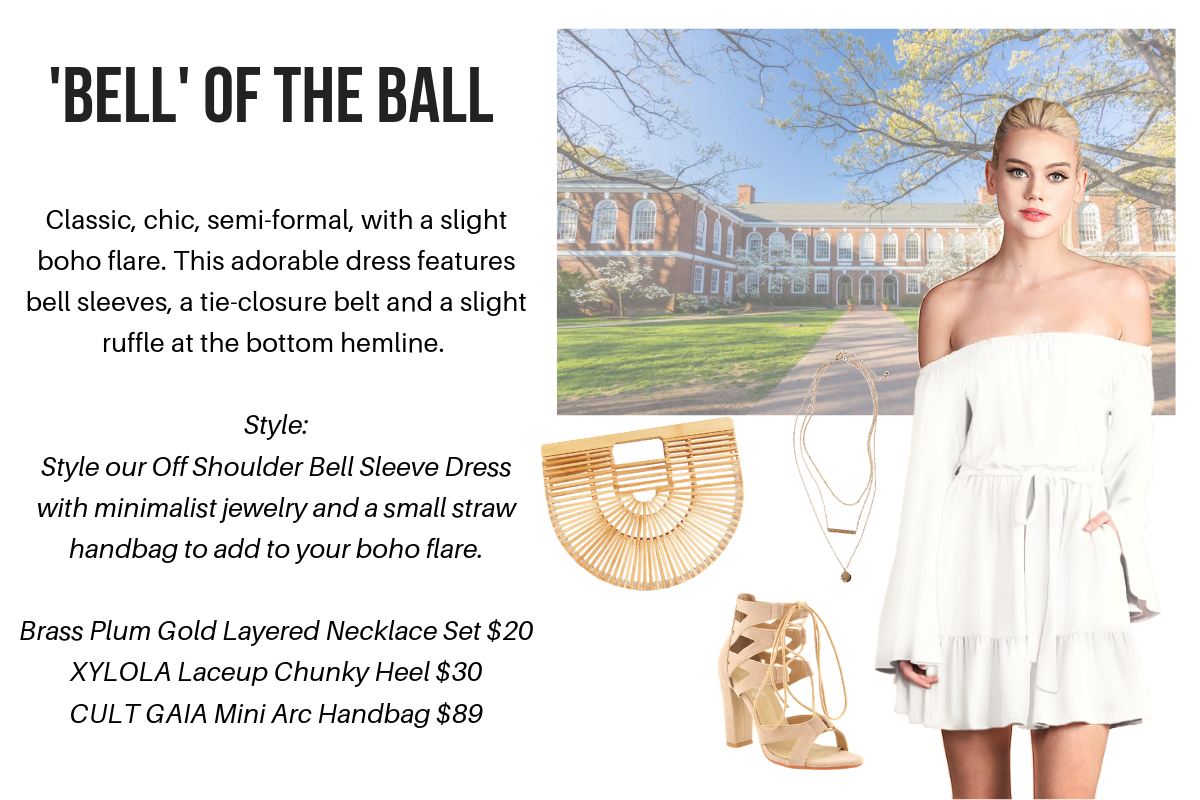 Our Off Shoulder Bell Sleeve Dress is not only an A M A Z I N G seller, but is versatile, beautiful and is the perfect transitional piece. Dress this Off-Shoulder beauty up with a pair of heels and a clutch, or keep it cas with some cowboy boots and a cross-body. The bell sleeves are the cherry on top of this beautiful piece, slightly mirroring the ruffles that sprout from the bottom hemline. This dress is available in WHITE, by special order only. Please email shop@tychedonca.com for inquiries.
Style Number: D-3862
________________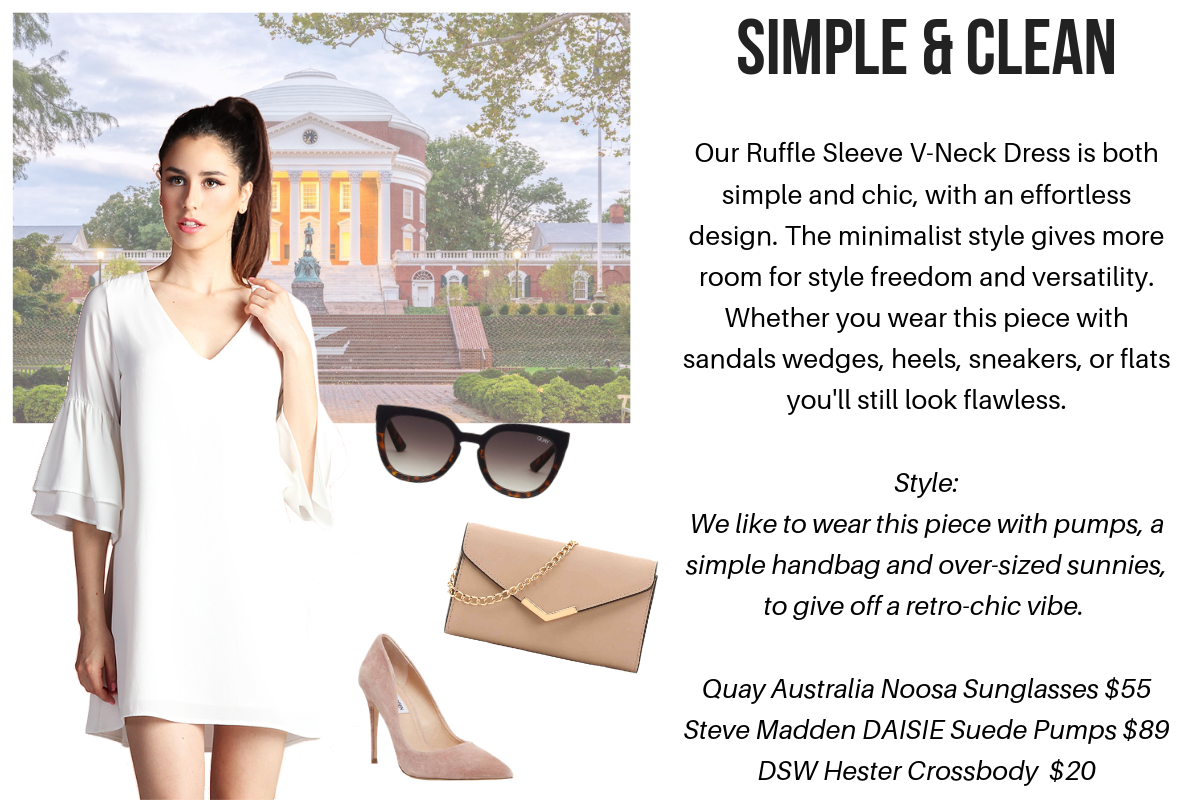 This simple design allows you to style this piece in a thousand different ways. The balance of modern edges and playful ruffles sets off nostalgia of ultra retro-chic vibes; oversized sunnies, a bold lip, and pointed pumps are all a yes to us!
Style Number: D-3587
________________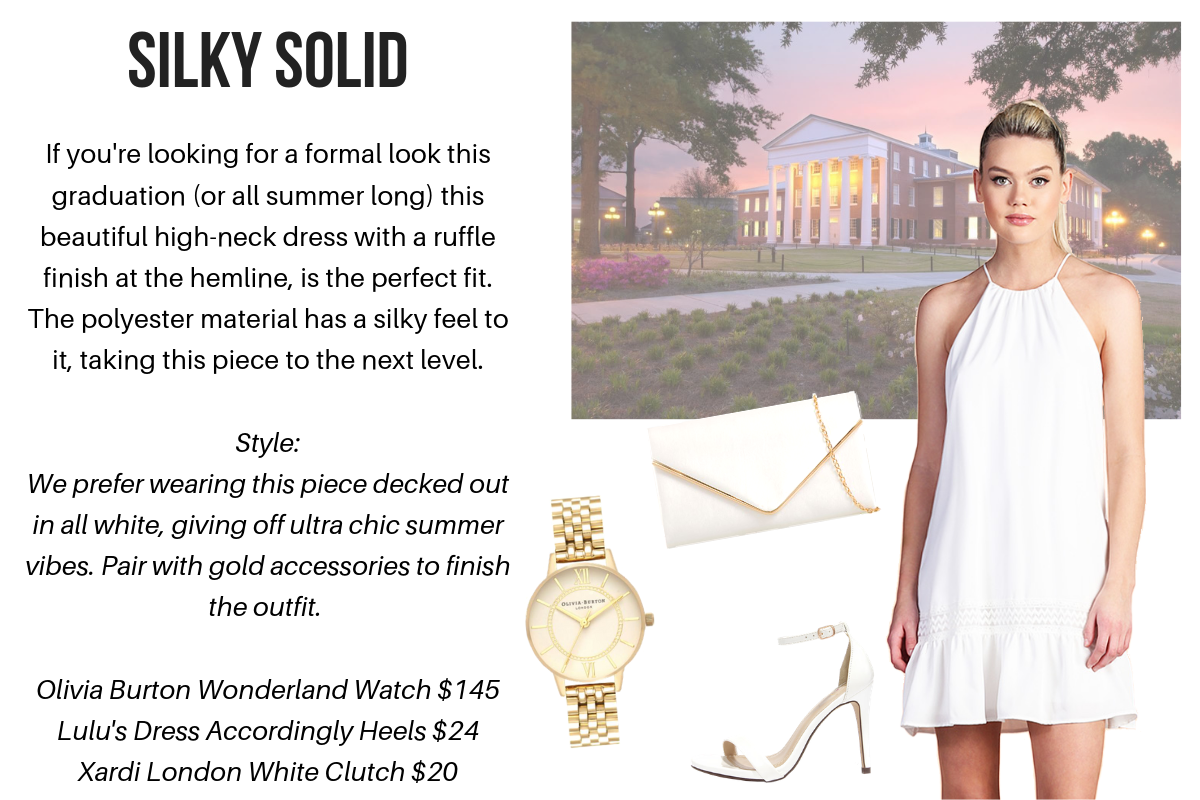 Step into your next formal event wearing this fabulous dress and you'll be receiving compliments all summer long. The high neckline is elegant and chic, while the lace detail 1/4 from the bottom hemline adds charm. Pair with all-white accessories, gold, or just about any other color, because this dress is ultra versatile.
Style Number: D-3527
If you can't find what a piece for graduation after reading this blog posts, go ahead and look through our dress, romper, or jumpsuit sections and you'll be sure to find something. Still need assistance? Send an email to shop@tychedonca.com.
________________
Tyche does not profit from this blog, nor receives compensation from the mentioned brands. Tyche does not own any of the products, features or photographs used in this blog post. This post was curated by the Tyche Public Relations Team for recreational, admiration, and hobbyist use. This list was compiled in a random fashion, not by sponsorship or purchased value. The Tyche Public Relations Team is not responsible for orders, purchasing, returning, reviewing or lost/stolen items listed in this post. Tyche is not in sponsorship or partnership with any of the above brands. If you have comments, questions, ideas, suggestions or concerns, please email pr@tychedonca.com.