Posted by Tyche on 6th Aug 2019
Whether you're looking for the classic casual look for the bleachers, or a spruced up, stylish version for the after "W" party, you'll be sure to find what you're looking for in our 2019 GAME DAY COLLECTION! Read through this blog post and you'll want to add all these classic team colors to your cart. We have something for everyone, from high school, minor league, to major league and professional ball.
GAME DAY RED

Calling our Cardinals, Devils, Trojans, Titans and Bulldogs; All the red fandoms out there, ready to rumble on the sidelines. Our red styles are sure to fit the bill, while keepin' you looking your cutest.
Everyone needs a staple red dress PERIOD. And though red is a difficult color to come by with so many variations, we have thee perfect one for you! Our Wrap Midi Dress D-4387 hits you in all the right places, making it flattering on any body. The ruffled sleeves and flare skirt are the finishing touches on a beautiful dress, ready to order.
Moving counter clockwise, we've paired our Sleeveless Ruffle Tank T-4567 with our Washed Cotton Tie Shorts P-4493 for the perfect little fit' for those warmer game days. We like to wear this outfit tucked into the shorts with white sneakers and gold accessories.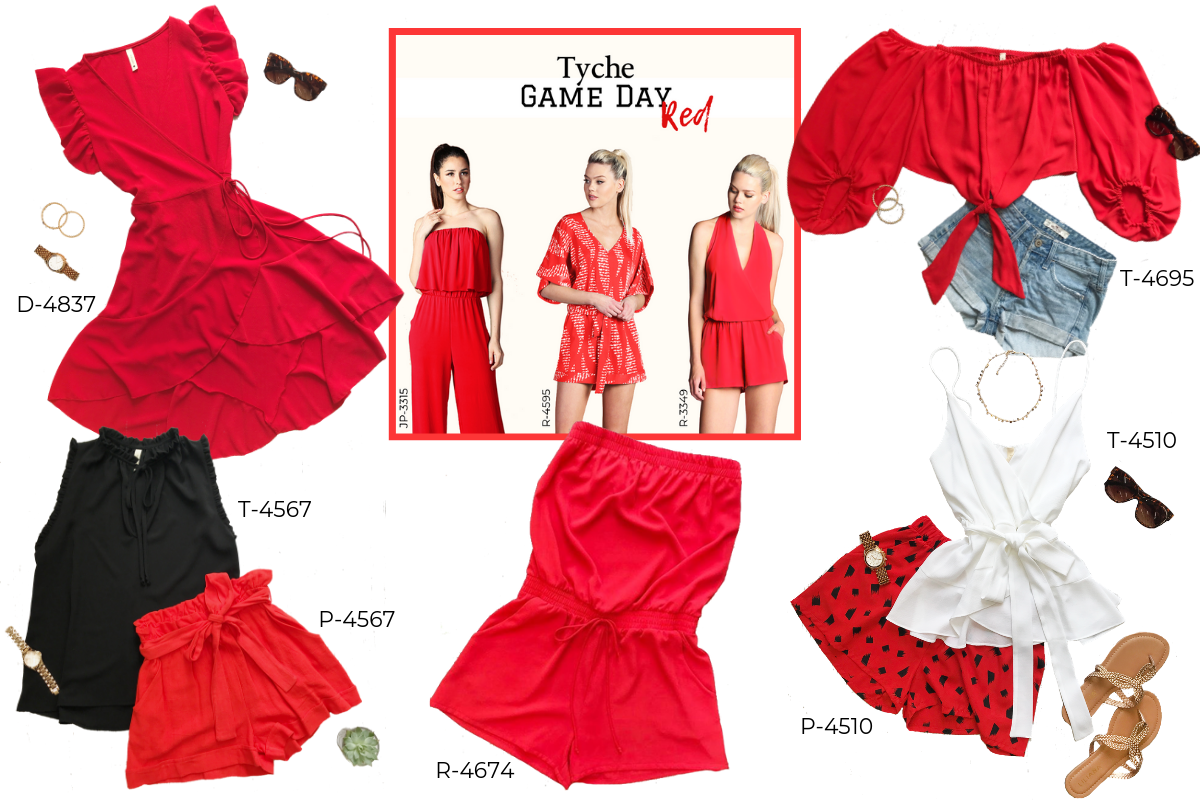 Want something fast and easy? Our Drop Waist Romper R-4674 literally takes seconds to put on, but makes you look like you had a well though-out plan. Step into the romper, pull it up and watch it hug you at the neckline and waist. The piece features pockets and a small tie detail.
For a polished look you can take from the bleachers to the after party, style our Wrap Cami Top T-4510 with our Flat Stroke Shorts P-4510. We like wearing this piece with a cute pair of sandals and sunnies.
Last, but definitely not least, our Off Shoulder Balloon Sleeve Top T-4695 is a crowd favorite and pairs well with just about any bottoms. Get creative with accessories like hoop earrings, lace-up heels, over-sized sunnies and more!
----------------------------------------
GAME DAY WINE
Where are all our Sooners, Reveilles, Eagles and Crimson Tide at?! These super cute Wine / Crimson pieces are sure to keep you looking spirited and far-from basic.
Fan fave, our Side Wrap Shorts P-3672 not only come in our beautiful wine color, but also many other game day and everyday colors. Sport a casual look with a tank and sneakers or spice it up with a crop top and thigh high heels.
One of our FAVORITE game day rompers is our Tie Sleeve Romper R-2835, complete with pockets and a slit-sleeve detail the runs down the arm. Pair it with booties, bling and sunnies for a chic game day look.
Looking for a unique take on game day? Opt for a understated leopard print like our Micro Leopard Ruffle Sleeve Top T-4291. This adorable piece features ruffle sleeves at the wrist and a v-neckline. We like pairing this piece with denim and boots.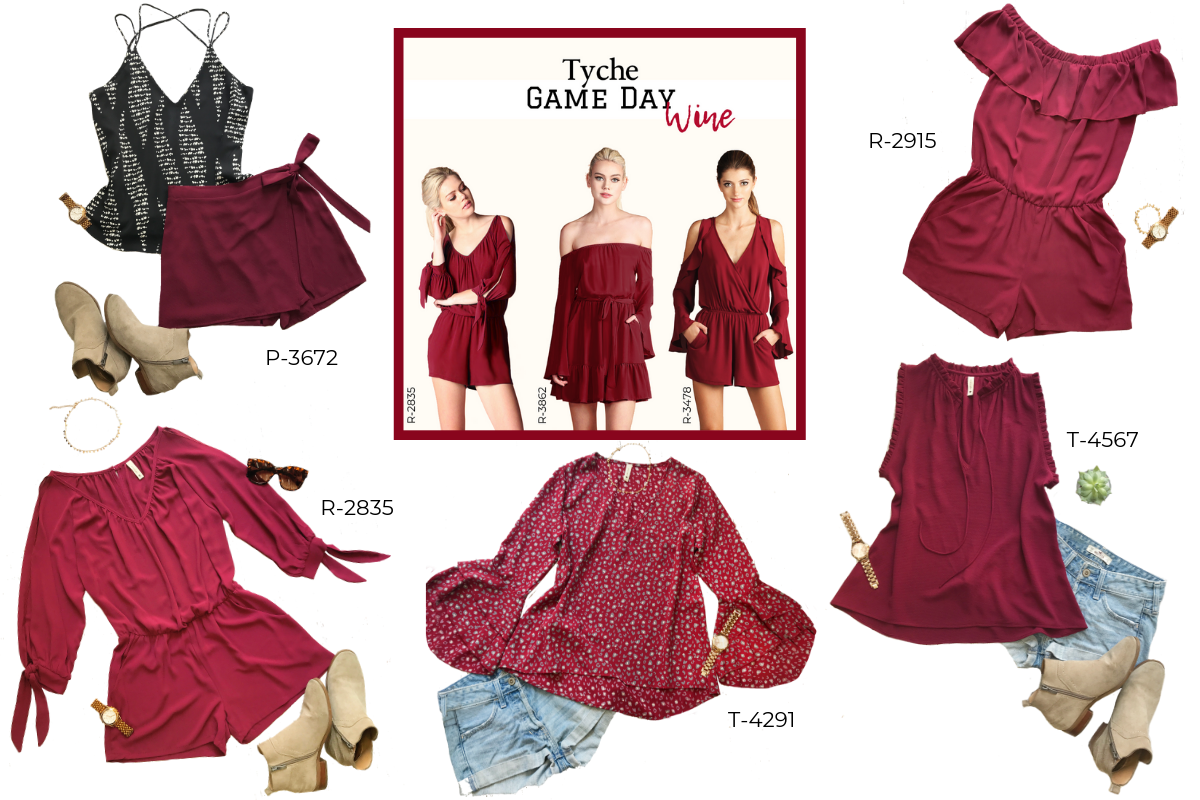 For those hot games in the sun, pair our Sleeveless Ruffle Tank T-4567 with a pair of shorts! This style features little ruffle details on the sleeve cusps and neckline. The high neckline then splits into a medium-sized split and suspends a tie feature that can be left open or tied up into a bow.
For those off-the-shoulder lovers, we have just the romper for you! Our Off Shoulder Flounce Romper R-2915 features a flounce / shelf detail across the chest, adding flare and personality. The waist is lined with elastic and the legs feature pockets!
-----------------------------
GAME DAY RUST
Longhorns, Dogs, Ducks, Seminoles, and Broncos - where y'all at!? This tricky colorway translates into different shades and tones. Some school opt for a more tangerine-color like rust, a more neutral color like Camel, or a pinker tone -Terracotta. Some call it Burnt Orange, other Sienna. Regardless, we need you to know that we got it covered.
Starting from romper R-4141, our Side Wrap Romper is perfect for that super cool, laid back chick. We like wearing sneakers with this piece, finishing the look off with some chains and sunnies.
Underneath, you'll find our Off Shoulder Sweater Knit Top T-3924. This cute little top pairs well with just about any bottoms, and is perfect for those 'sunny with a cool breeze' kind of day. We like wearing this piece with mini skirts and short shorts. Toss a scrunchie in the hair, grab some gold accessories and you're good to go!
For a more sexy game day look that duos as a great after-party look, grab our Surplice Halter Romper R-3349. This romper features a deep tie-halter neckline, pockets and an elastic-lined waist. Pair with necklaces heels and a clutch for a chic take on game day.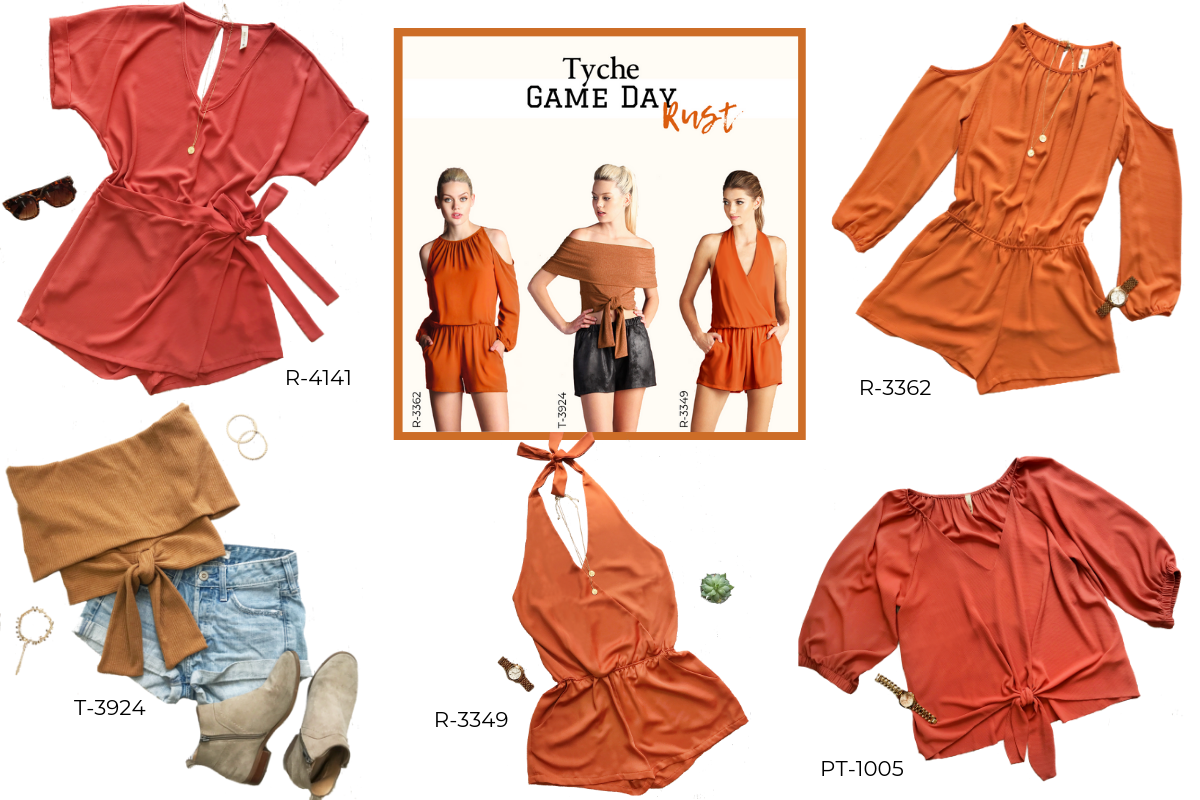 Need a little more coverage? Our Quarter Sleeve Tie Front Top PT-1005 is perfect for those who are looking for something a little warmer on the arms. Pair with denim jeans, booties and gold jewelry to up the ante.
Need a warmer romper? Order our Cold Shoulder Romper R-3362, which features long sleeves, perfect for chillier Friday night games. The cute cold shoulder cutout compliments the scoop neckline. Throw on slides and sunnies and you'll be the most spirited babe in the stands.
-------------------------------------
GAME DAY GOLD
For all our Bears, Pirates, Warriors, Anteaters, and Banana Slugs - we have some cute options for you!
Our Strapless Handkerchief Top T-4813 is one of our newest tops, featuring a strapless neckline and an adorable tie feature in the back that can be styled in a knot or bow. We like taking this piece not only to game day, but to music festivals, parties, and even on vacay!
A pairing we're in love with, is our Off Shoulder Tie Front Top T-3645 with our Modern Animal Paper Bag Shorts P-4950.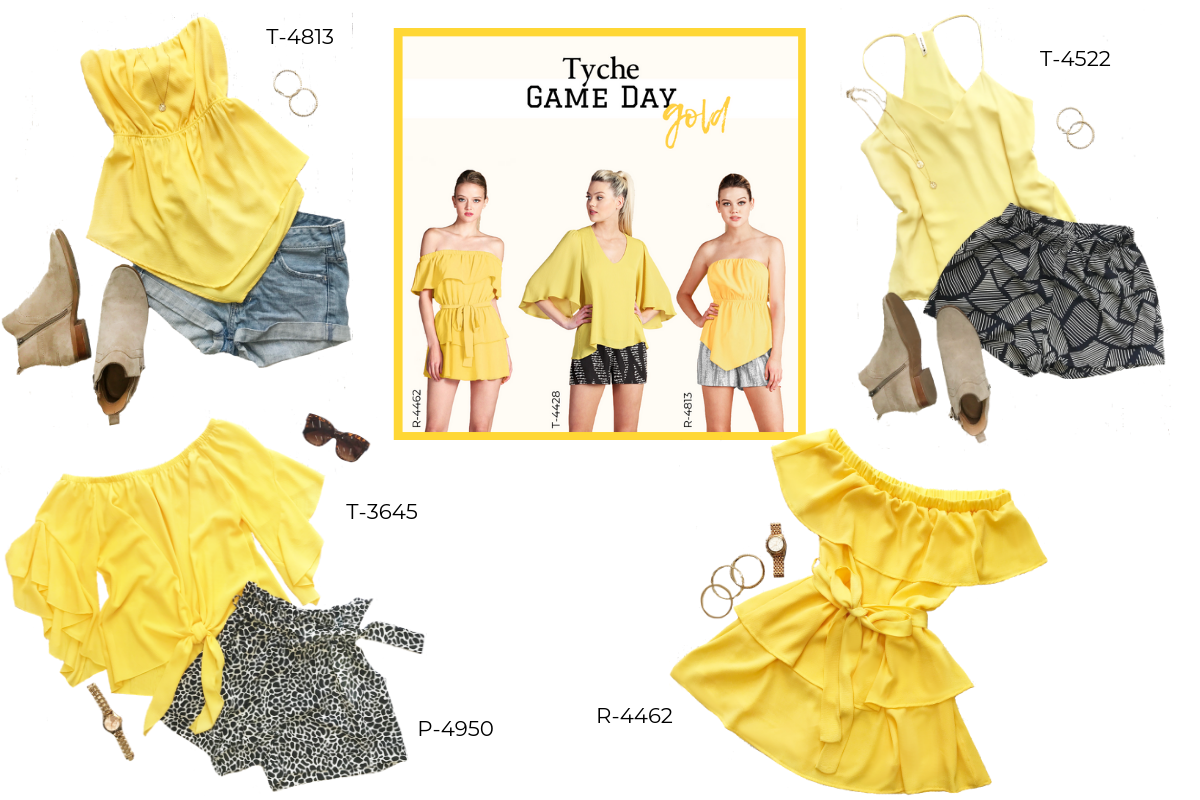 Want a look that'll keep you cool (figuratively and literally)? Throw on our Racerback Cami Top T-4522 and pair with virtually any bottoms, and you'll be lookin' casual, spirited and cool in that hot Summer-Fall sun!
What's better than a dress? A ROMPER that looks like a dress! Check out of Off Shoulder Ruffle Romper R-4462 and you'll prrrroooooobably end up ordering just about every color. Dress it up or dress it down, either way, you'll be taking the W that day.
-------------------------------
GAME DAY HUNTER GREEN
All our Bobcats, Packers, Gators, Ducks, and Warriors are about to look flawless on game day, wearing their new Tyche looks.
Starting from our Choker Romper R-4037, this piece is far from basic, and looks good on its own, or with some cute layering. Throw on your fave denim jacket, chunky knit sweater, or a fun long line duster. We like wearing this piece with booties and an occasion wide-brimmed hat.
Another great 'fit for warm weather is our tank and shorts combo, V-Neck Solid Cami Top T-4558 and our unforgettable Side Wrap Shorts P-3672. Finish the look with sunnies and an over-sized watch. Don't forget the sunscreen.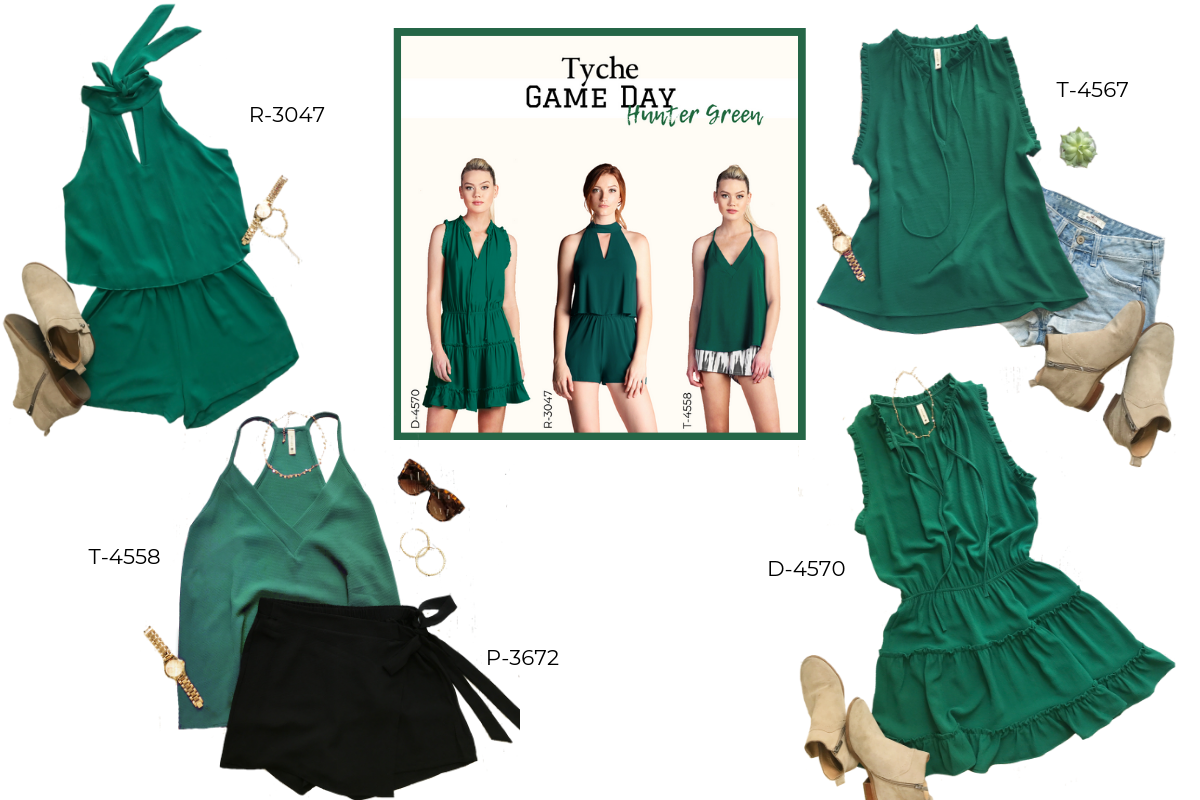 Our great Ruffle Detail Sleeveless Top T-4567, is not only wearable for game day, but also beyond! This piece has become one of our greatest sellers in the short amount of time we've carried it.
One of our best-selling dresses is coming soon in HUNTER GREEN; our Baby Ruffle Day Dress D-4570! Pair with booties, hoop earrings, and a possible choker for an adorable look that'll take you past the after party!
-------------------------------
GAME DAY ROYAL BLUE
Blue, Black, White [Cougars, Chargers, Cowboys, or Cats] LET'S FIGHT (or go our for drinks because we're all friends)!
What's better than a high-low dress? Our High Low Ruffle Sleeve Midi Wrap Dress D-4387! Although this is a little swanky for a football or baseball game look, we're also lookin' out for our derby fans out there! Wear it heels for the after party, or pair it with sneakers for a cas' take.
For all our CATS out there, the perfect outfit is just a click away with our Crinkle Kimono Top T-4430 and our Leopard Paper Bag Shorts P-4502. Together you have yourself THEE cutest Kentucky (or any blue feline mascot) outfit!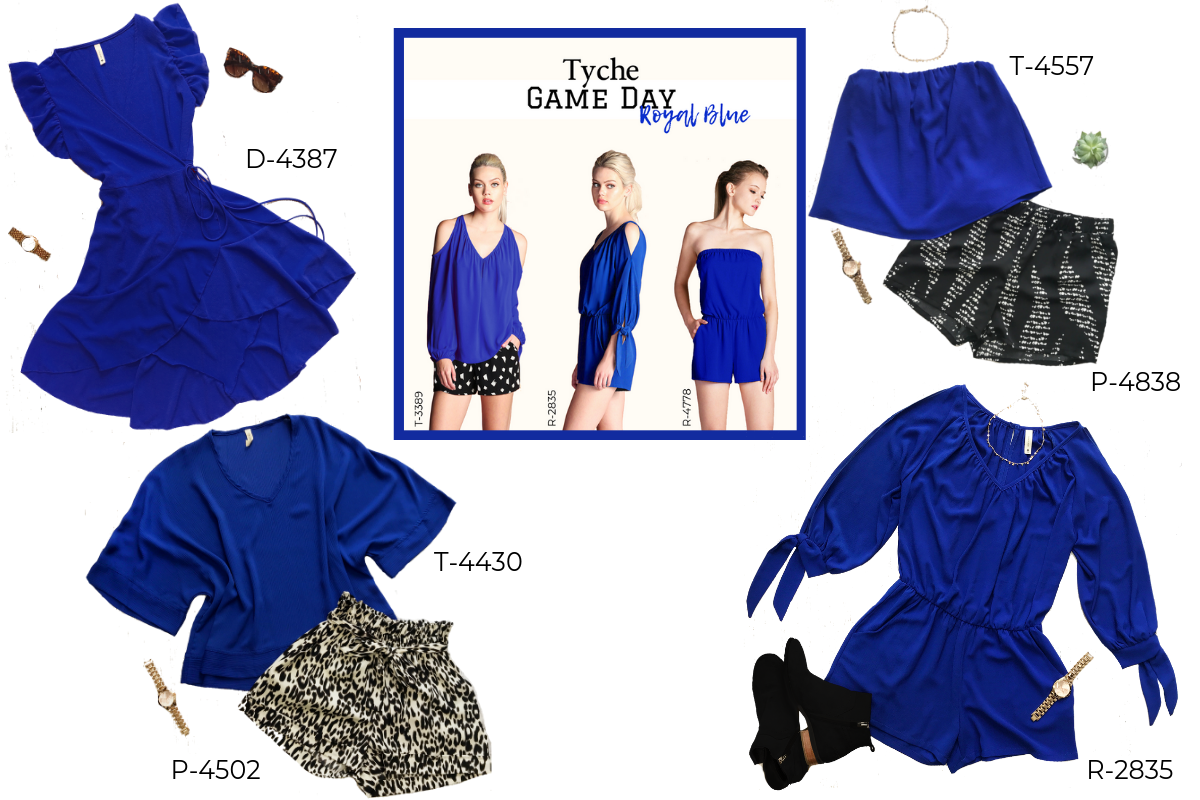 Need a flirty little crop and short combo? Pair our Simplest Chic Strapless Top T-4557 with our Wavy Texture Shorts P-4838 and add your minimalist accessories for a perfect Instagrammable look.
Hey! Ho! Our Tie Sleeve Romper is gonna go! Order one of our many Tie Sleeve Rompers R-2835 and never regret it. The v-neckline allows you to accessorize the neckline, while the split sleeves and tie wrists add some flare. Pair it with booties and some wrist candy and you'll be sure to catch stares.
----------------------------
GAME DAY PURPLE
Shout it out Frogs, Tigers, Falcons, and Lakers; this one is for you!
There's nothing wrong with a simple tank paired with shorts for game day, so why not dive into this pairing (before its sold out!) Because purple is such a beautiful and bold color, alone, we like to style it with neutral colors, like our Contrast Geo Shorts P-4866. Throw on our V-Neck Easy Tank Top T-3515 and add your favorite accessories. Throw on a duster for layering or wear it alone in the sun!
Another great 'fit for warm weather is our tank and shorts combo, V-Neck Solid Cami Top T-4558 and our unforgettable Side Wrap Shorts P-3672. Finish the look with sunnies and an over-sized watch. Don't forget the sunscreen.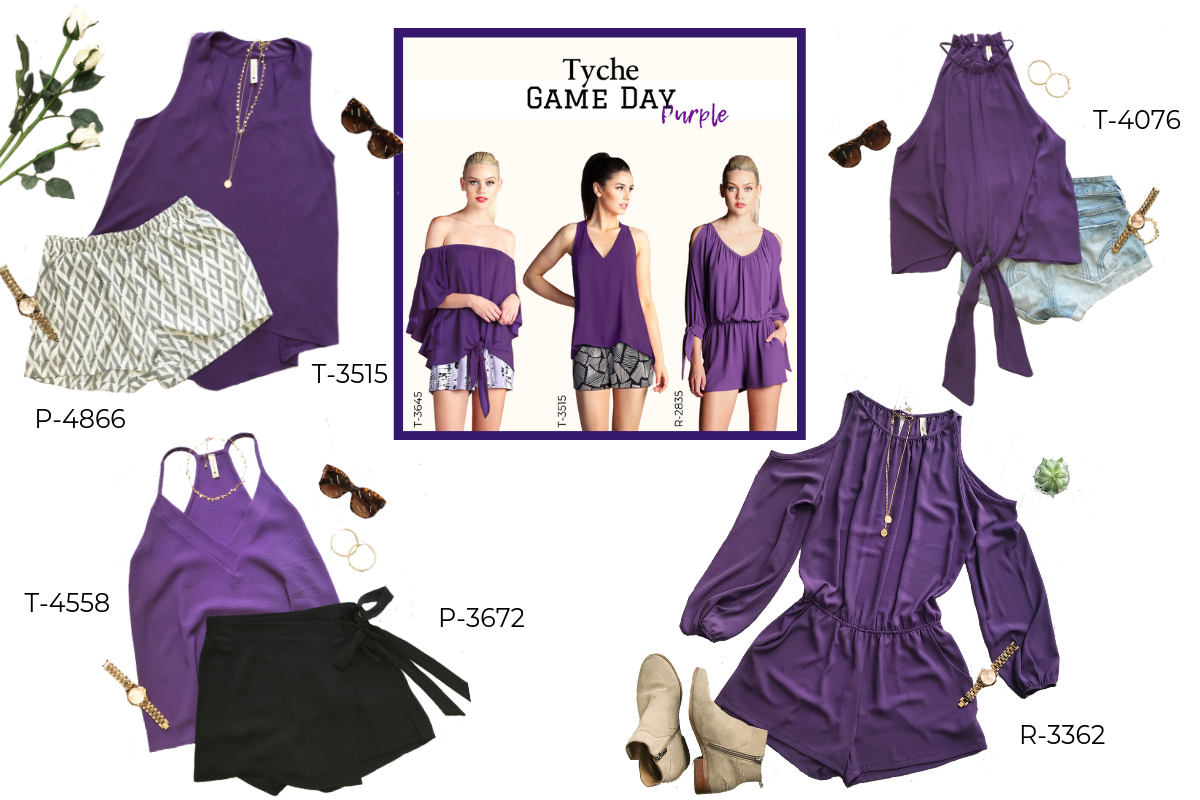 Anyone down for a good halter-like piece? Our High Ruffle Neck Tie Top T-4076 is a great multi-occasional piece, ready to transition from the pregame to the after party. The neckline closes with a small button and the front tie detail can be styled to your liking. Don't forget about the shoe game!
Want to cover up a bit more? Our Quarter Sleeve Tie Front Top PT-1005 is perfect for those who are looking for something a little warmer on the arms. Pair with denim jeans, booties and gold jewelry to up the ante.
-------------------------------
GAME DAY BLACK
All our Buffaloes, Raiders, Ravens, and Pirates will have a multitude of styles to choose from this season! Black is one of the most versatile game day colors, wearable with ANY color, material, print or accessory.
Our Fold Over Top T-4351 complements any bottoms, but we chose to pair it with our best-selling Side Wrap Shorts P-3672. We like to tuck in one side of the top, and layer some necklaces for a laid back look.
Another great black game day look, is easily achieved with our AMAZING Triple Ruffle Ikat Top T-4000. Pair this baby with some denim shorts, gold bling and you're good to go to any championship game.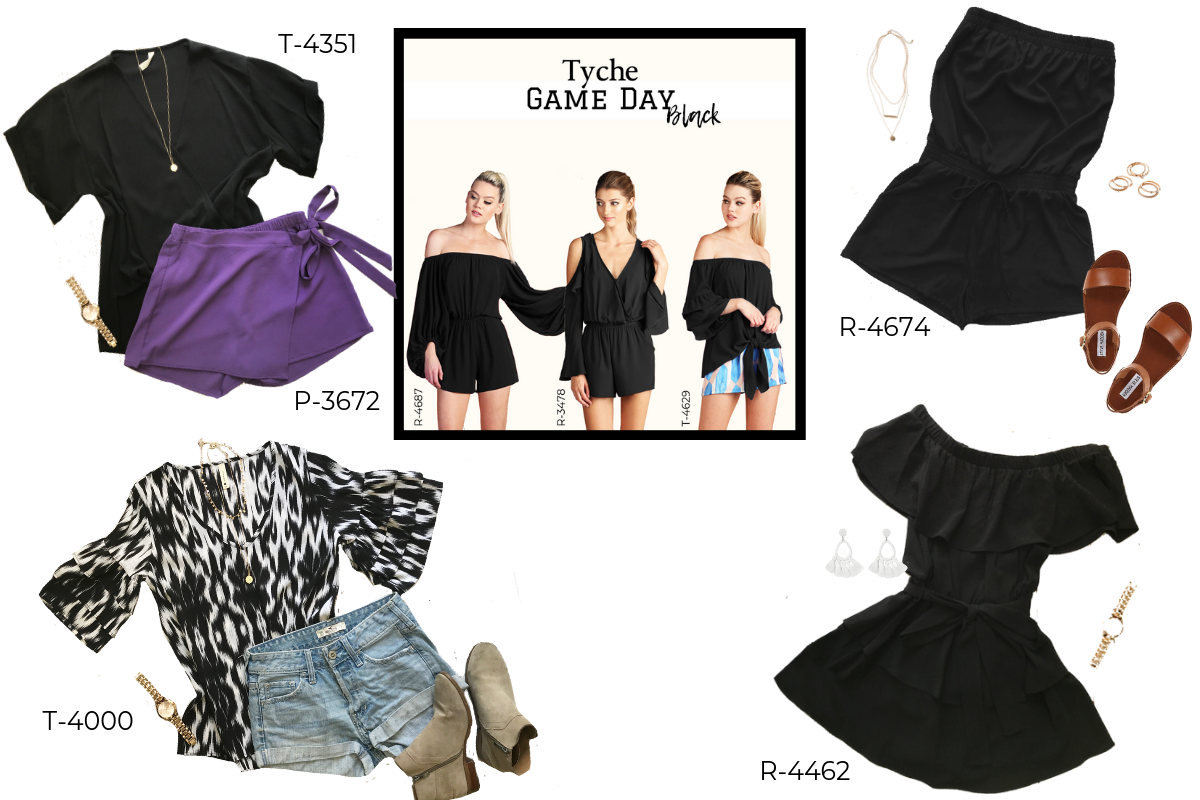 Going somewhere with sweltering heat? Or make you want to show off the arms and legs next to the pool. For wither occasions, opt for our Drop Waist Strapless Romper R-4674. This closet staple features an elastic-lined waist and neckline, wearable with any cover-up and shoe combo.
Last, but definitely not least, our Off Shoulder Ruffle Romper R-4462 is the cutest addition to our long list of romper styles here at Tyche. Throw on this fun piece and pair with a gold choker and sandals for an unforgettable game day look.
Still can't find what you're looking for? Email us at shop@tychedonca.com for a personally-tailored collection for you!
Tyche does not profit from this blog, nor receives compensation from the mentioned brands. Tyche does not own any of the products, features or photographs used in this blog post. This post was curated by the Tyche Public Relations Team for recreational, admiration, and hobbyist use. This list was compiled in a random fashion, not by sponsorship or purchased value. The Tyche Public Relations Team is not responsible for orders, purchasing, returning, reviewing or lost/stolen items listed in this post. Tyche is not in sponsorship or partnership with any of the above brands. If you have comments, questions, ideas, suggestions or concerns, please email Monique Lazaro at pr@tychedonca.com.
game day couture nfl nba college football baseball angels yankees dodgers mets red sox astros chargers cowboys patriots bronco cardinals falcons panthers packers steelers frogs cats longhorns bama roll tide alabama textas south carolina louisiana standford oregon state university campus games game day pride go fight win party drinking tailgating atl misssissippi ole mis asu arizona nevada ohio florida gators usc usa ucla ucsb cute big little sorority chapter rushweek rush week philanthropy mascot cheer cheerleader cheerleading go big blue spirit wear fight win championships cif lancers raiders dolphins 49ers colorado jags red black white blue. We love football. College football. Tailgating 101. Gameday Party. Athletes. athletic. gameday fashion. school spirit. game day outfits. college party. college parties. hercampus her campus