Posted by Tyche on 25th Sep 2018
Need a new outfit for those upcoming fall weddings? Fall has no shame in keeping us on our toes. One day it's scorching hot and the next, it's strictly cuddle weather. Here are a few looks we've created to help you navigate through these weird weather soirees.
Between those DIY Pinterest weddings, and those HGTV million dollar weddings, our wedding guest wardrobes need to be able to function for any themes, dress codes and desires that may come our way from the couple-to-be. Below you will find a range of styles, from backyard BBQ, to destination getaway.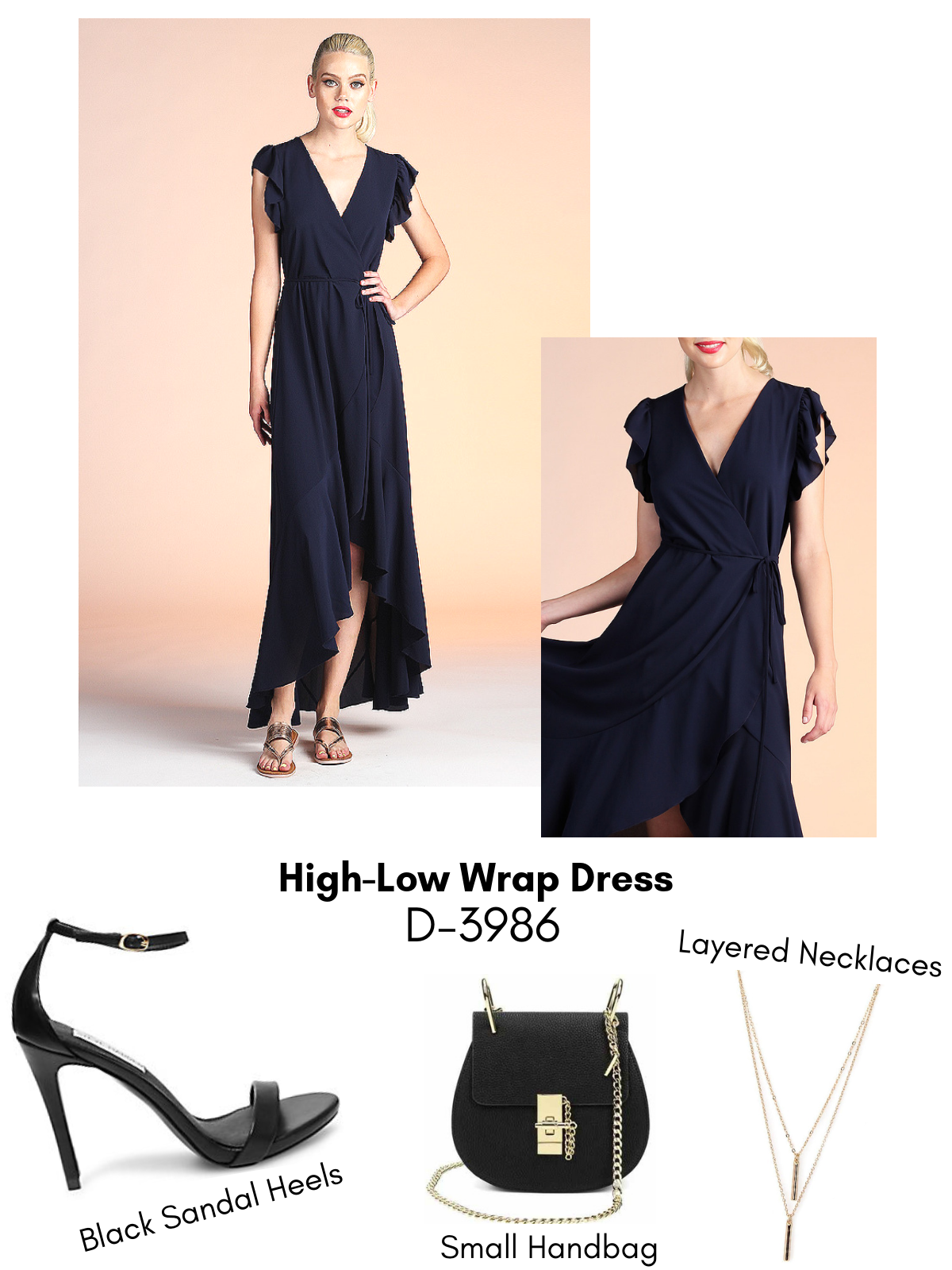 Float into your next event in our High Low Maxi Dress. This beauty has a wrap feature that ties to the right side of the body with a thin tie, giving you an effortless draped look. The slight ruffle on the sleeves mimic the ruffles that softly drip down the hemline, giving major goddess vibes. Pair with dangly jewelry, curled hair and those high heels waiting in the closet.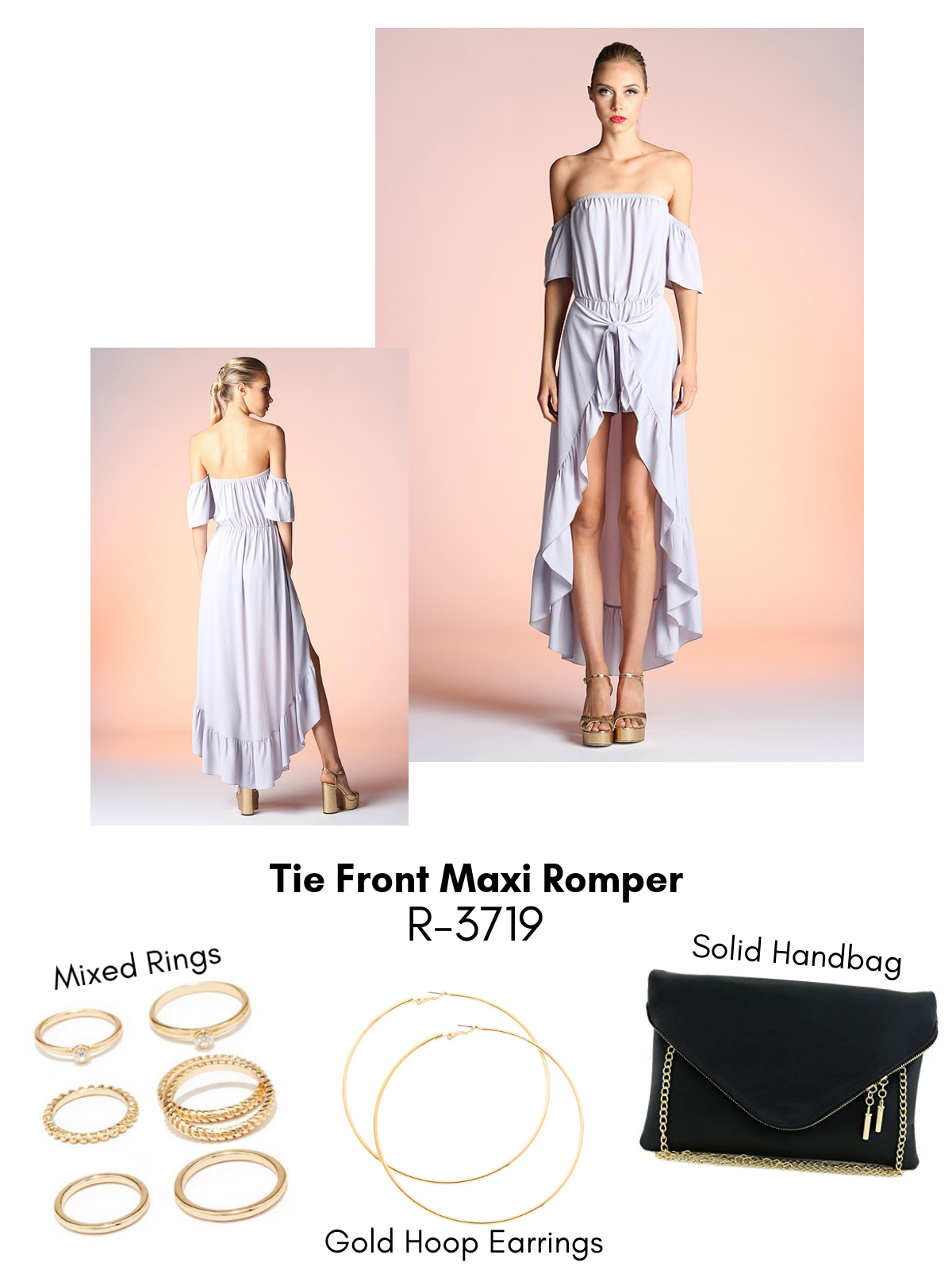 Glide into the party in our beautiful Tie Front Maxi Romper. The front of this beauty plays peekaboo with a high-low effect by its tie feature. The tie can be styled to your liking, to the front, left or right side of the body. Let that hair down and accessorize this baby up!
We all have that one friend who is always glamed out, so why would their wedding be any different? For those glam weddings, be sure to slip into our Pleated Metallic Shift Dress. With every step, this dress floats and flashes its beautiful metallic fabric. Don't let this dress fool you; the body is dainty but its character is bold.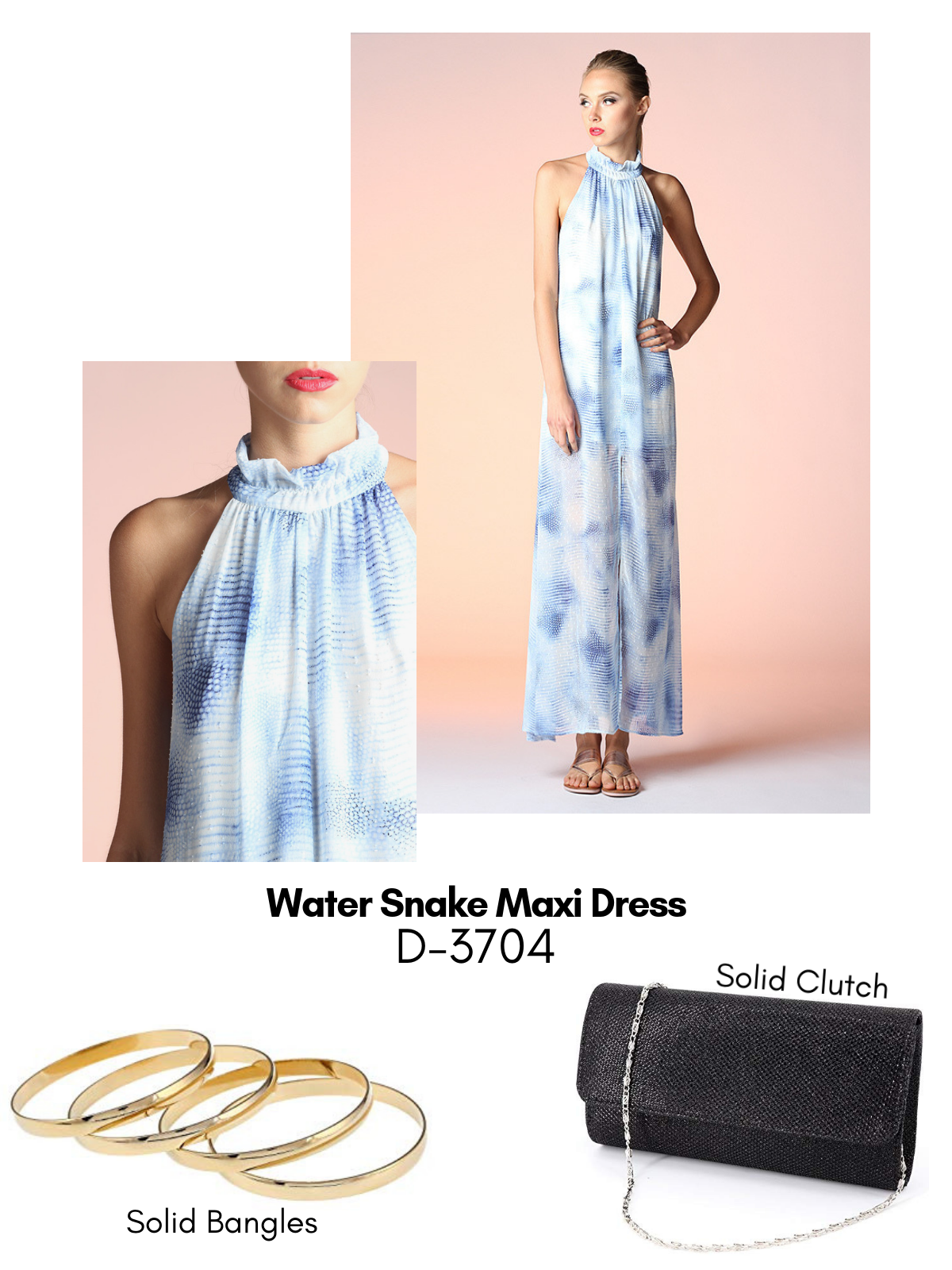 Not sure what to wear for those snowy celebrations? Or maybe even those sandy soirees? Look no further because this dress actually fits both occasions. This beautiful chiffon maxi is printed with our cool Water Snake Print, and sports a high neckline. Did we mention the major slit on this thing?! Throw on a big fur coat for those winter parties, or slide into a pair of gold sandals for those summer getaways. Either way, this dress is perfect for those faraway fairy tales.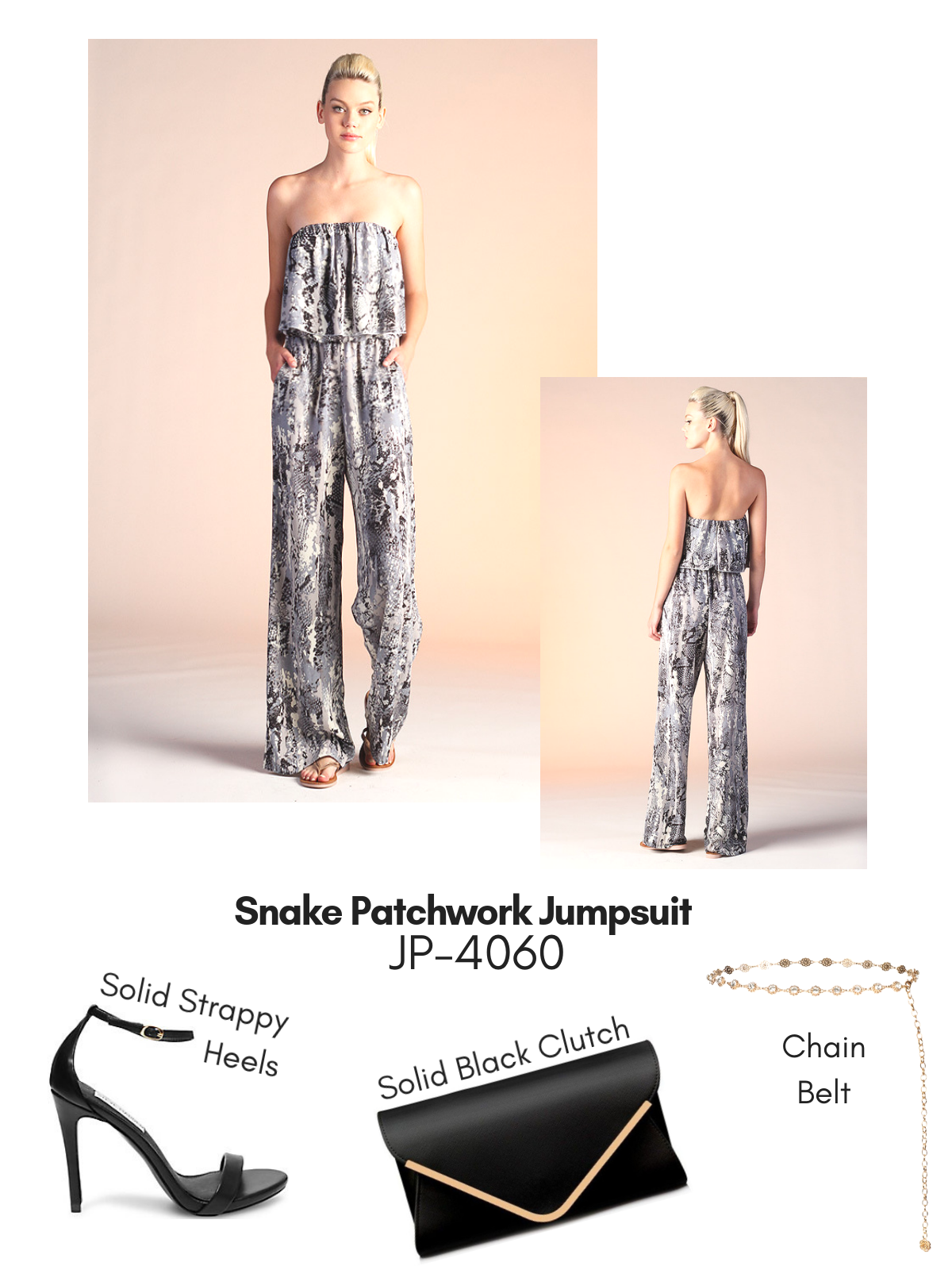 Let's make a statement in our sexy Snake Patchwork Jumpsuit. Keep those legs lookin' long in this piece, paired with some solid black or nude heels. Add a clutch and you'll be unforgettable in this number.
Country Girl, shake it in this adorable Off Shoulder Bell Sleeve Dress. There's nothing wrong with a good DIY backyard bash to celebrate a special day, so why not do it in this adorable piece? Th off-the-shoulder neckline gives this shift dress a little bit more of a formal look, while the soft ruffles that glide down the sleeves add a little fun to the mix. Throw on some colorful heels, or keep it casual with your favorite cowboy boots!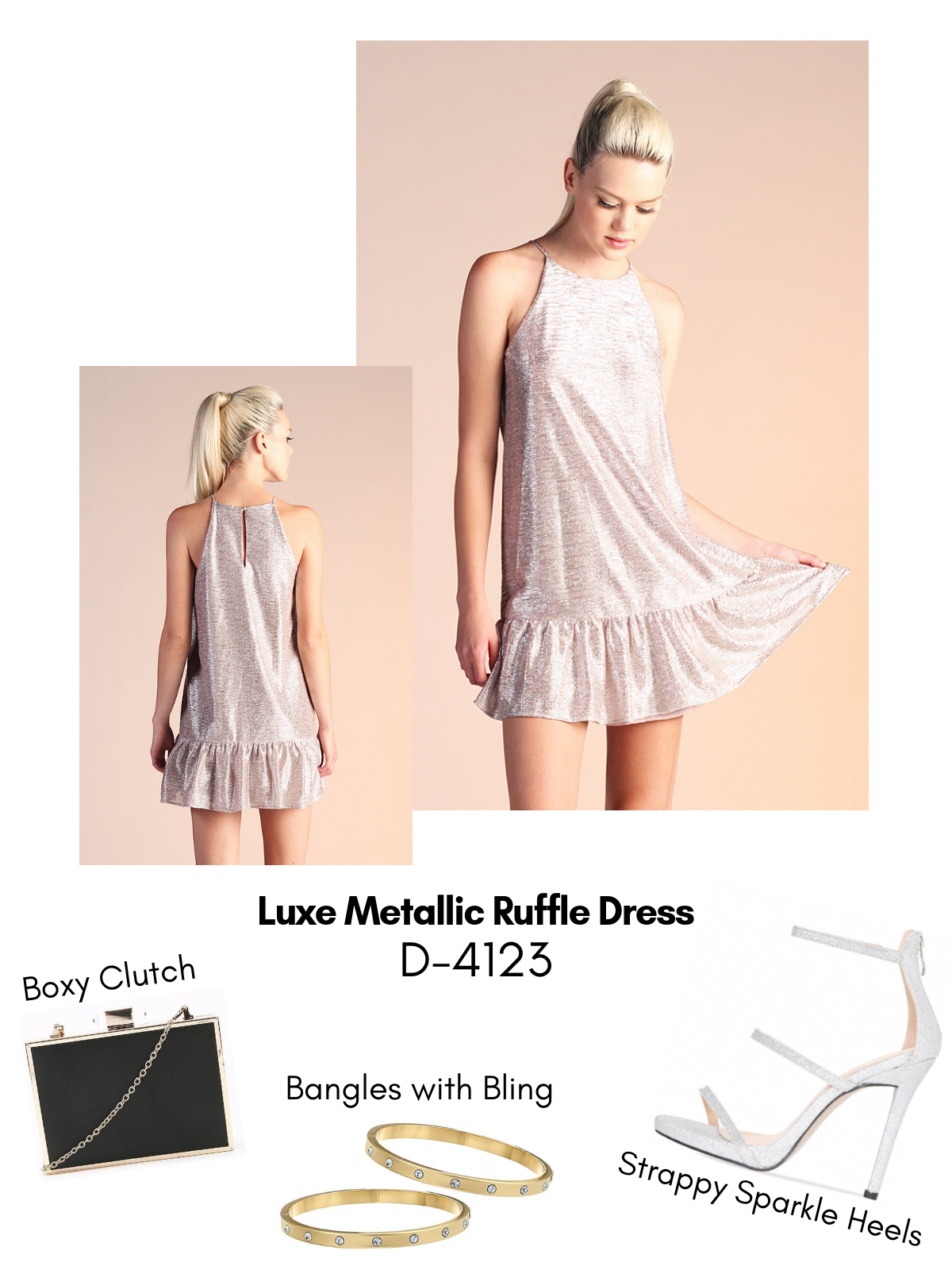 Calling all girly-girls out there! Don't mind some ruffle and a little sparkle? Good news is, this is the piece for you. This adorable dress features a hemline that suspends a dainty ruffle that wraps around the body. The high neckline gives room to layer accessories over the dress, or gives you the perfect opportunity to show your hair up in a ballerina bun! Add a cute cross body bag and a couple midi rings, and you're set to be the princess of the ball.
Tyche does not own any of the accessories in this blog post. Tyche is not in sponsorship, affiliation or in ownership of any of the listed brands, companies and or corporations featured in this blog post. This blog is intended for casual and fun sharing of fashion inspiration. Please direct questions, comments, concerns or ideas to pr@tychedonca.com.
Thanks for reading!
XOXO
Tyche