Posted by Tyche on 30th Sep 2019
There's no doubt that Fall fashion has already hit the scene by storm. From animal prints, midi skirts, deep colors and knits, everyone is already grabbing cozy styles regardless of this funky weather. Sit tight, grab that PSL and get ready to find your new fave Fall styles, curated by Tyche
First things first: Footwear! You don't want to be that one girl who's still rocking sandals in December, so opt into these perfect transitional pieces.
We're going wild with all of these adorable animal prints, including leopard / cheetah. These Dolce Vita cutie booties are asking to be worn every day! Grab them retail or wholesale on their website, Nordstrom or in store. These booties are called the Dolce Vita Sonni Booties for $150. We know that's steep so if anyone has any promo codes, now would be the time to share!
Dropping down to those adorable sneakers, the Asos Daylight Platform Sneakers for $32 are a perfect pairing to any top and jeans outfit, a skirt and top outfit or with a cami dress! Lace them in bows or tuck in the strings; either way you'll be killin' the game. We're seeing a TON of fashionistas pair these kicks with midi skirts and dresses. Our fav look is pairing them with ripped jeans and a fun moto jacket.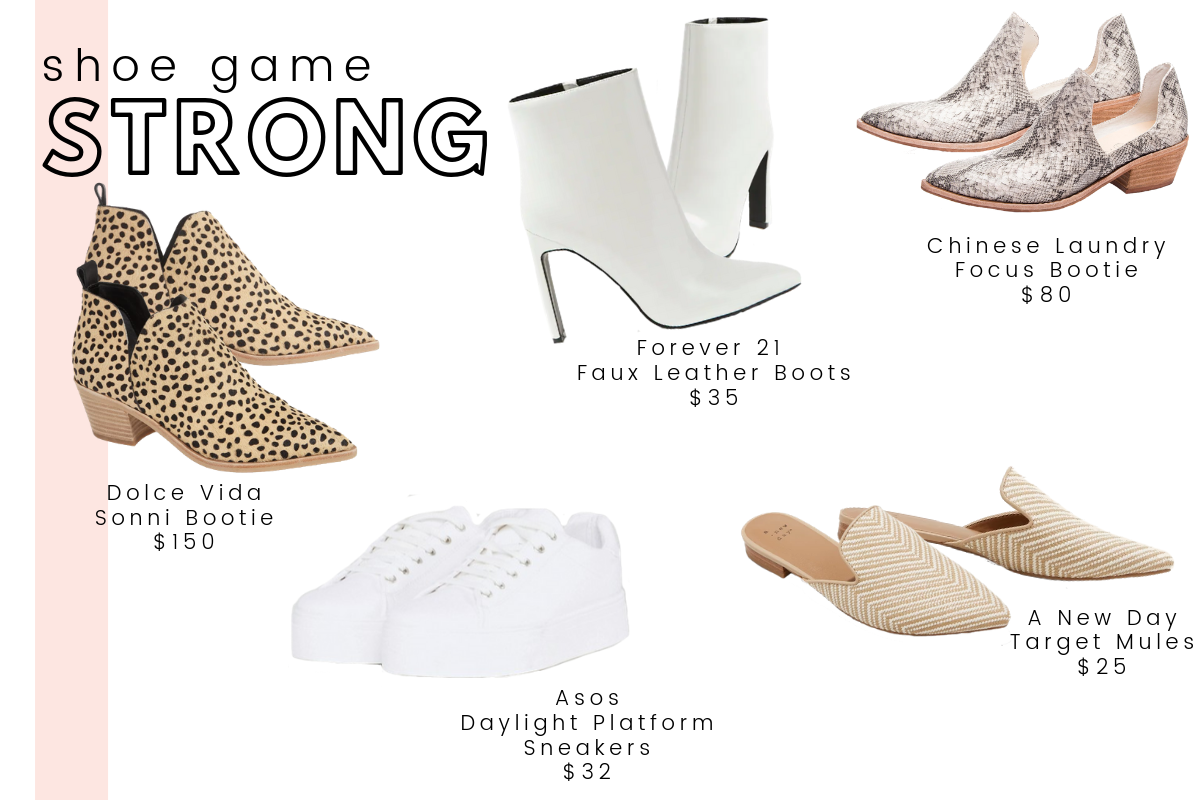 Everyone has a pair of mules... but we bet no one has a pair of faux straw mules! These shoes are not only great from transitioning from Summer to Fall, but also weekday to weekend, day to night! Slide them on with capri pants, joggers, skirts, shorts or jeans and you have an adorable outfit completion! Grab at Target for a limited time for only $25; A New Day Rachel Mules.
Crawling up to the right hand corner, these sexy chic snake skin booties are by Chinese Laundry! The Focus Chelsea Boots are $85 and features a small heel. We like pairing these with ripped black jeans, a cute concert tee and a wide-brimmed hat.
Last but not least, these addooooorable white heeled boots are not only perfect for Fall, but summer and spring too! Find them in-store and online at Forever21! Look up Faux Leather Ankle Boots. Did we mention, they're $32? These boots can be paired with literally anything, like ripped jeans, boyfriend pants, joggers, midi skirts, dresses, mini skirts and shorts!
----------------------------------------------
Everyone loves a good skirt, so why not opt into a fun midi skirt that you can wear year-round? Our beautiful Hammered Satin fabric is unbelievably comfortable and super pretty when experiencing movement. The texture is soft, but also semi-reflective of the light that hits it, like natural satin does. Order S-5134 in this beautiful Foundation color shown below, Mushroom and Black.
Moving on to the timeless animal print phenomenon, our Ocelot Cat Print is back in our classic Wrap Skirt body, featuring skinny ties that can be styled to your liking. Order S-5039 in Taupe and in Grey.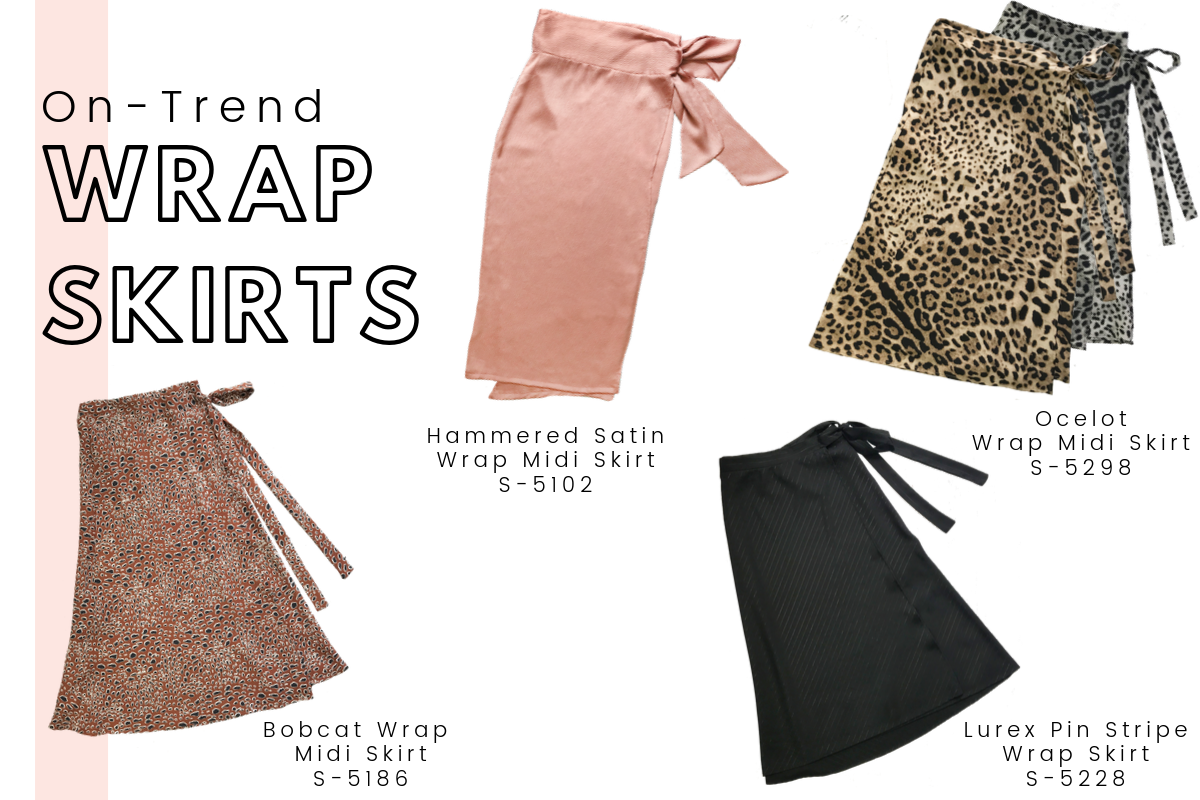 ed to add a little sparkle to your closet? Our Lurex Pin Stripe Wrap Skirt S-5228 has very minimal metallic thread running through the entirety of the skirt, giving you a little sparkle with every step you take. pair with a cute t-shirt or crop top and you have yourself the perfect midi of the season.
If you are in love with the animal print trend like we are, but don't necessarily want something quite as loud, order our subtile Bobcat Print Wrap Skirt S-5186 that features a smaller animal print. This adorable piece can also be dressed up or down, depending on the occasion.
----------------------------------------------
To all our bag ladies out there, we got you covered with all the trendy pieces this season.
Everyone needs a good envelope clutch for those all-day parades of office to night club shenanigans. This clutch is not only snakeskin, but has a gold snap closure and an optional chain to wear it as a cross-body. Get the Orfila Snakeskin Envelope Clutch for only $14 on Amazon!
Go jet black with the Aldo Greenwald Chained Bag, $60 online. This ultra chic bag gives us a mix between YSL and Gucci, leaving you with a whole outfit to find to go with your bag haha! Mix up the look by adding multiple fabrics and washes.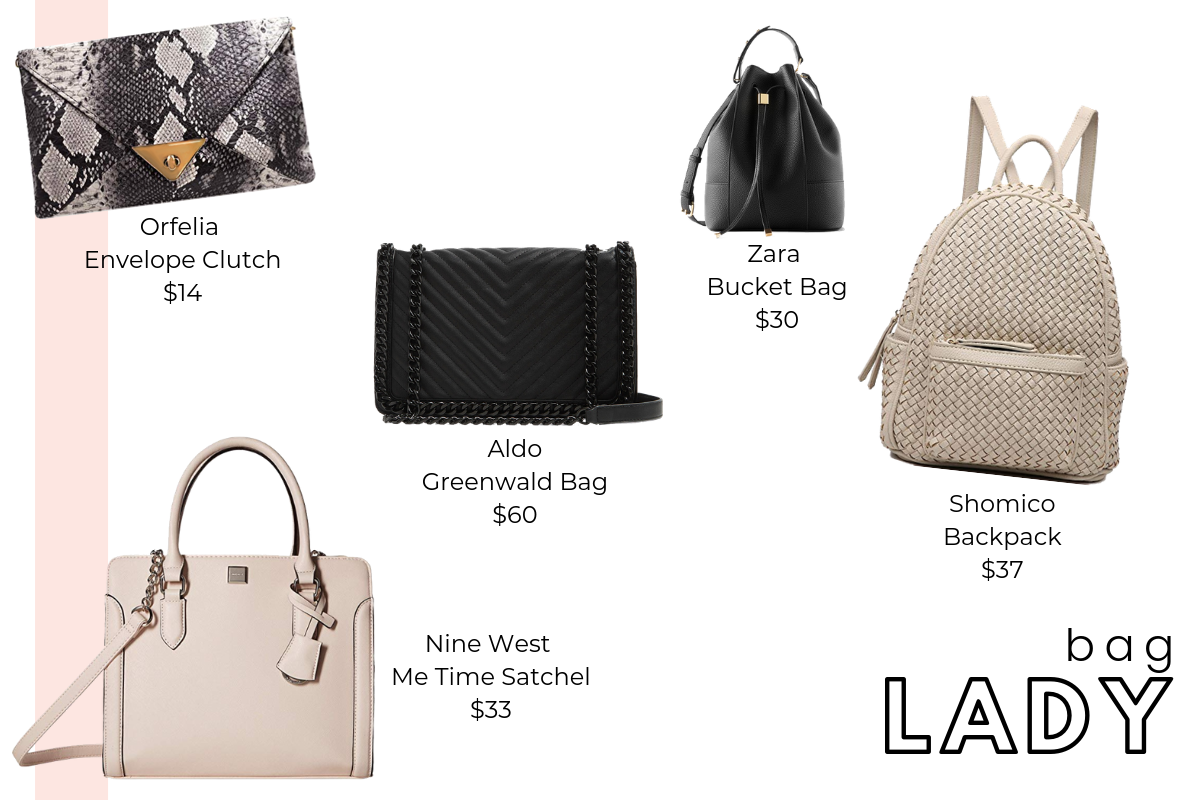 Want to mix up the ol' bag game? Grad a super cute and trendy Bucket Bag from Zara! This $30 bag includes a longer strap for cross-body purposes, and a drawstring pull to close this piece nice and snug. Pair with literally any casual outfit day to night.
Can you say steal? Because the price on the Nine West Me Time Satchel is ONLY $33. Pair this simple and clean bag with all those fun Fall prints you love wearing.
Your newest backpack, ready to order from Amazon! The Shomico Backpack features a cute cross hatchet design with strips of faux leather, and is only $37!
--------------------------------------------
It's 2019 and everyone is upping their hair game by sprinkling clips, scarves, hats and more. Check out these cute additions to any outfit.
Clip it together with a hair clip set from Anthropologie. Looking for a whimsical chic look? Opt in to the Maui Beaded Clip Set. Looking for that animal print? You can never go wrong with the Tortoiseshell Clip Set. Each of these sets are $18. Visit Anthropologie to see these sets and many, many more sets.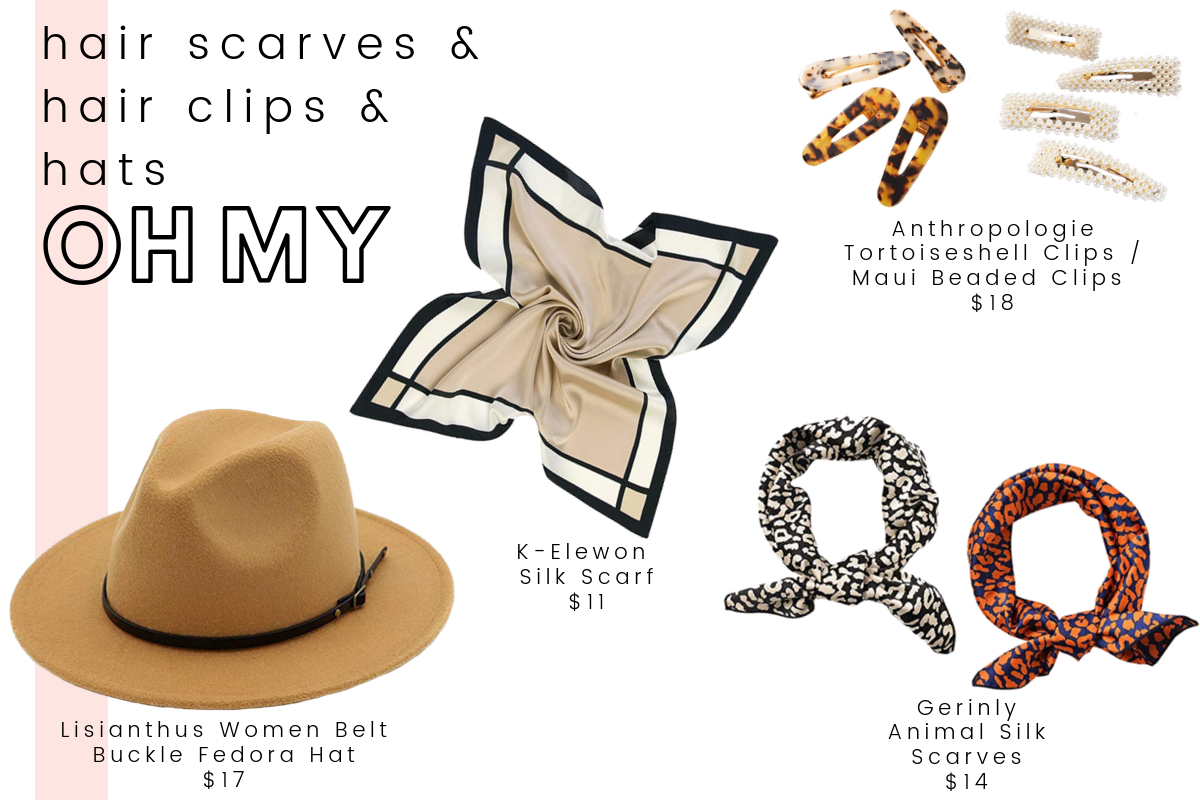 Messy, oily, frizzy, untamed hair? Everyone knows the old messy bun trick, or even a classic braid style. Whether your hairstyle is thrown together in 30 seconds, or you spend hours constructing a masterpiece, you can never go wrong with adding a scarf in your hair! This classic scarf from Amazon, the K-Elewon Silk Hair Scarf is being sold for only $11! Not a fan of the print? No worries, because it's available in 18 different prints!
Everyone NEEDS a wide-brimmed hat in their life, and you can't really pass up a $16 purchase, so just give in already! The Lisianthus Women Belt Buckle Fedora Hat is super cute and available in TONS of colors.
Add a little animal print to your accessory drawer with these adooorable hair scarves. Choose from 10+ different colors and prints when checking out the Gerinily Animal Print Scarves on Amazon.
____________________________
Keep in touch with mother nature with these gorgeous nature-inspired leafy floral prints this Fall. Our Bali Leaf Print is woven with metallic lurex thread, giving you a subtle shimmer effect as light hits the blouse. The -on-trend balloon sleeves keeps things modern while the v-neckline is timeless. The soft chiffon-feel of T-5247 will take you through Fall and Winter all the way to Spring!
Looking for a bigger print to grace your collection of dresses? Our Tyche Exclusive Guilded Leaf Print features large bunches of leaves, celebrating the classic colors of Fall. Pair with heels for an event or wear with booties and a sweater for a semi casual date. D-5274 is available in Terracotta, Grey and Black while stock lasts.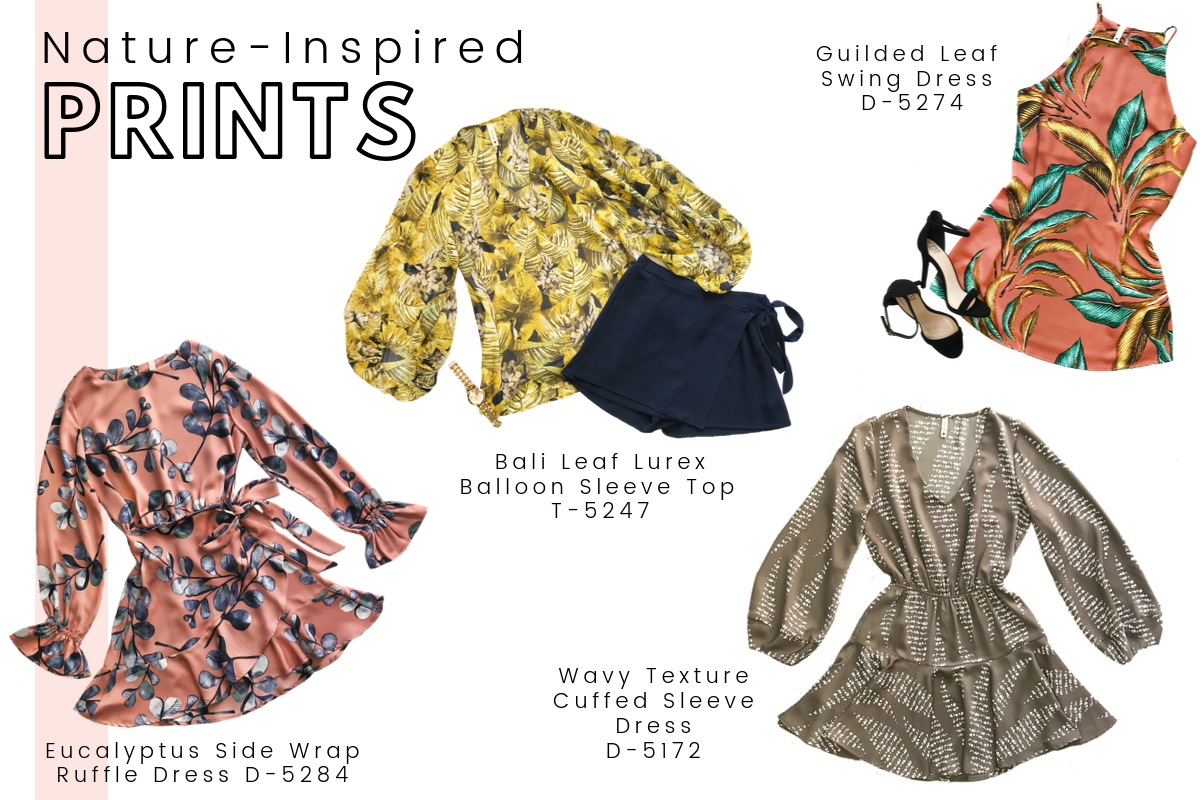 Our beloved Wavy Texture Print of the Summer is back in our classic Fall colors, and in NEW BODIES! Enjoy our adorable Cuffed Sleeve Dress D-5172 in Mushroom and Gold while stock lasts! We loooooove pairing this piece with white or taupe boots, hoop earrings and sunnies.
Last but not least, one of our FAVES, the Tyche Eucalyptus Print is now available in our super cute Side Wrap Ruffle Dress D-5284! This piece features a high neckline, long sleeves with ruffle details, a wrapping detail on the front and a ruffle-bottom finish. The dress closure is located in the back with a single button. Pair with heeled booties and a high pony for MAJOR effect. You may even want to add a hair scarf to top it off!